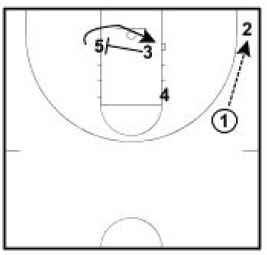 This play is from the Arizona Men's Basketball Newsletter.
If you would like to be added to their newsletter mailing list, please email me your
1) Name
2) Team or School
3) Coaching Position
and I will forward it on to the Arizona staff.
1 passes to 3. As 3 passes back to 1, 2 begins his cut of of 5 to the ball side corner.
4 will always keep his man lifted above the second dash for space during screening.
As 2 crosses 5's shoulders, 3 begins his movement to screen 5 as 1 dribble into the action.
4 remains high to keep his man from helping on the screening action.
As 1 passes to 2, 3 screens 5s defender. This will appear almost as a backscreen as 5 peels off under the rim ballside.
2 feeds 5, or can hit 4 if 4s man is helping on the post