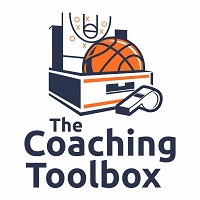 The Coaching Toolbox has hundreds of free resources for basketball coaching.
We have posted twelve ideas that we at the Coaching Toolbox believe constitute a basketball practice mindset that is necessary for a basketball team to consistently attain great quality in basketball practice. We believe that the quality of the practices a team has is determined by more than just the drills that the coach runs. The types of drills certainly makes a huge difference, but the mindset that both players and coaches approach practice with day in and day out.
Here is the first of our twelve principles for having the practice mindset and manner of a champion:
Practice with the mindset and manner of a champion
Having the right frame of mind is what separates the programs with great practices from all of the others. By whatever means you can, indelibly etch the following saying into the minds of your players:
I have no individual goals. We play for one reason and that's to win the title. Practice is more important than the games, and I will practice when I'm hurt, when 95 percent of the players in this league would sit out. I expect all of you to do the same thing. You will follow my lead."…to the Chicago Bulls. And follow they did.–Michael Jordan
EVERY TIME WE TAKE THE FLOOR, WE PRACTICE AND PLAY WITH THE TECHNIQUE, INTENSITY, TOUGHNESS, AND TOGETHERNESS OF A STATE (OR NATIONAL) CHAMPION.
Everyone in the program must believe that championship level practices every single day of the season are the key to success on game day. If they do not demonstrate that belief, then you must continue working to convince them that is true. Then collectively, the team members must roll up their sleeves daily and make that vision a reality. For practice to impact your win-loss record, the players must agree to be and want to be held accountable to and be coached to the highest standards in your class.
Certainly, there is no way to measure what your competition is doing in practice. However, if the coach and the players have the mindset that your program's standards for intensity, execution, toughness, and togetherness are those of a state champion, and you go to work every day to earn the right to feel that you are succeeding, your practices will be exceptionally productive. Your players must believe that the coaches are not helping them if they allow anything less than the championship level.
To see the remaining 11 principles, click here–>Practice Mindset.
For more information about all 130 Ideas to make practice better, click here–>130 Great Ideas.