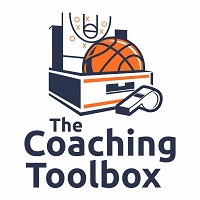 By Brendan Hall
Pay atten­tion to the ​"spe­cial teams" of bas­ket­ball, or you may end up pay­ing the price.
In crunch time, the suc­cess of a sin­gle out-of-bounds play can make or break you. Compare it to, say, the kick­ing game in foot­ball, or the pow­er play and penal­ty kill units in ice hock­ey. It might be over­looked at times, but if you're not fun­da­men­tal­ly sound in those areas, it can cost you dearly.
"They're the spe­cial teams of bas­ket­ball to me," says O'Dea High School (Wash.) boys bas­ket­ball assis­tant coach Ryland Brown, who typ­i­cal­ly coor­di­nates the Fighting Irish's out-of-bounds plays.
"It's a big one for us. We try to score out of that, and then get into our offense after­wards. So it's good to pick up on pat­terns for us, espe­cial­ly over the year see­ing which ones work, which ones don't work, do we need to scratch some out and keep some in."
Whether you're a nation­al­ly-ranked stal­wart, or just look­ing to get off the mat, chart­ing the suc­cess of your out of bounds plays can shore up some weak­ness­es — and even stoke the imagination. 
How It Works
You can track side­line and base­line effi­cien­cies in two ways.
One is over­all effi­cien­cy, which assigns a sim­ple ​"suc­cess" or ​"fail­ure" to every play based on whether you scored.
On the oth­er hand, points per sideline/​baseline out of bounds, which aligns sim­i­lar­ly to points per pos­ses­sion, takes into account the actu­al scoring.
How you'll defend out-of-bounds plays might change from game to game. For instance, let's say the team you're about to face went 2 for 4 on base­line plays the pre­vi­ous game, both of them for 3-point­ers. The game before that, this oppo­nent went 3 for 5 on base­line inbounds, all of them layups. How will you pre­pare for this? Take a look at the tagged plays from the chart.
How Coaches Value It
Some high­ly-suc­cess­ful coach­es, such as Beaver Dam (Wisc.) girls bas­ket­ball coach Tim Chase, expand their play­book to as many as 40 dif­fer­ent out-of-bounds plays as they under­stand what's work­ing for them and try to add new wrin­kles. Others will look at pat­terns over the course of the sea­son, hone in on the plays that work, and scrap the ones that aren't bring­ing much val­ue to the percentages.
Defensively, coach­es find tremen­dous val­ue in track­ing their oppo­nents' ten­den­cies on inbounds plays. 
In the Seattle Metro League, one of the nation's ripest high school leagues for tal­ent, a good scout­ing work­flow is cru­cial. For O'Dea High School, the defend­ing Washington 3A state cham­pi­on, this includes track­ing how those top pro­grams uti­lize their cel­e­brat­ed super­stars when inbound­ing the ball.
What's bet­ter than cap­ping a great defen­sive stand in the half-court by stuff­ing what the oppo­nent thought would be an easy bas­ket from an out-of-bounds play under­neath the hoop? 
"It's not one of the four fac­tors, but that's the No. 1 thing I always go to," Brown says. ​"It always hurts to do a great job defen­sive­ly, and then give up points out of bounds. So that's one I always look at — did we win that area? To me that tells me a lot about whether we're locked in and being alert."
Some coach­es use side­line plays to get into their offense, instead of cre­at­ing a score, and thus pay spe­cial atten­tion to how they per­form on the baseline. 
Lynden Christian (Wash.) girls bas­ket­ball coach Brady Bomber recalls a recent game that came down to a side­line out-of-bounds play from their oppo­nent, who was trail­ing by two points. Trusting their instincts — and the scout­ing report — the Lynx con­test­ed the shot enough at the rim to come down with the rebound and win in reg­u­la­tion as opposed to play­ing overtime.
"We're real­ly try­ing not to give up any­thing on that, and we're going to try to win by get­ting a steal under the bas­ket," Bomber says. ​"So it's great to be able to look at, okay, here are the sev­en base­line inbounds plays from the last game. Just to look through those and say, ​'Here are the three sets they run the most, and any­thing out of here our prin­ci­ples have to adapt.' Those are big buck­ets, as you know."
How You Can Use It
The Mendoza line for points per pos­ses­sion gen­er­al­ly sits at 1.0 — any­thing above is great, any­thing below could use some fine-tun­ing. But we can set the bar low­er on this met­ric when it comes to inbound­ing. A top col­lege team will post a points per BLOB/SLOB around 1.2, for instance, but some of the best high school teams in the coun­try oper­ate clos­er to 0.9 and are com­plete­ly fine.
But adding video to the mix will help you gain the most val­ue from these per­cent­ages. Defensively, the more scout film you can acquire and run reports on, the more accu­rate­ly you'll be able to eval­u­ate what a team's best sets are, where they're trend­ing, and how you can make the prop­er adjustments.
Pairing this with shot charts and the Four Factors can help you under­stand star play­ers' ten­den­cies on those plays. Does that scor­er flare out? Do they spot up for a three? Do they get downhill? 
When it comes to scout­ing your own team, know­ing what works and what doesn't work doesn't just help you opti­mize your play­book. It can also give you ideas on how to pre­pare for the inevitable coun­ters to your best plays. (Remember, your oppo­nents are scout­ing you too.) 
And maybe some new ideas will spring up. Could you set a screen for that streaky shoot­er off the bench? Or per­haps a play­er with a great rebound­ing per­cent­age can be used a dif­fer­ent way in the post. There's lim­it­less potential. 
**
With inter­ac­tive reports, see­ing is believ­ing. When you're try­ing to learn how the num­bers come togeth­er, hav­ing the asso­ci­at­ed video be a click away can make all the dif­fer­ence. Hudl Assist can help your team get the most out of their inbound data.