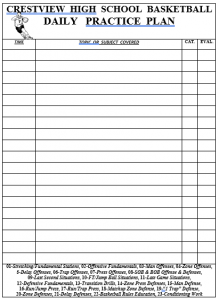 Submitted by Coach John Kimble of CoachJohnKimble.com
Retired high school and college coach
Follow him on Twitter @CoachJohnKimble
Editor's Note from Brian:  The purpose of this post is to give you some ideas on how to organize your practices in a way that you cover what you need to cover for your system.
INTRODUCTION
Every successful basketball coach is a master teacher of the game.  Just as excellent teachers who teach any subject, the outstanding "teachers of the game of basketball" must be certain that he/she thoroughly teaches every facet there is of the game that he is coaching.
To prevent the coach from omitting a minor or a major aspect of the game, the coach must also have a "game plan" for each practice session.  This daily practice plan allows the coach to adhere to the specific foundations, techniques, skills, and strategies being taught, worked on, and/or prepared for in the practice sessions.  Some of the major factors of successful practices are that each drill or activity in each practice should be:
1) Organized,
2) smoothly flowing,
3) extremely time efficient,
4) interesting (and not boring to the players),
5) all-involving (for each and every  player),
6) educational and informative,
7) competitive,
8) physically, mentally, and emotionally challenging to every player,
9) motivating to all players,
10) meticulously detailed and imaginative, and
11) intermittently repetitive.
In order that practices constantly have these attributes, a coach must carefully and conscientiously establish fundamentally sound practices for each and every day.  He/she must be painstakingly detailed  in his/her planning to achieve as many of the previously mentioned attributes in each of the activities of each and every practice.  Coaches must follow these two old clichés:  "Plan your work!!  Work your plan!!"  and  "Failing to prepare is preparing to fail!!"
There are three major components in the successful administering  of basketball practices.  These vital components are:
1)  Practice planning (before the actual practice takes place),
2) the executing of the practice plan (during the actual practice), and
3) the evaluating and critiquing of the practices (done after the practice has concluded).
It is of utmost importance to successfully perform all three components to have informative, worthwhile, and therefore worthwhile practices to prepare your players for absolutely anything and everything that could possibly happen in a game.  This is done in order for those players to be prepared and ultimately to be successful in their games.
This third component of  the administration of basketball practices sometimes can easily be omitted, forgotten, and ignored.  It is a requirement for successful programs to devise an overall master plan of each of the daily practice sessions.  This tool aids a coach to plan ahead and also to keep a season-long summary of past practices to record every aspect and phase of the game.  This 'diary of the practices' should illustrate the frequency and the quality of each and every drill and activity of every practice session.
The 'MASTER  PRACTICE  PLAN' is an invaluable instrument that will help a coaching staff insure that every fundamental, every drill, every skill, every rule, every aspect of the game is taught and practiced.  Each activity is documented and accounted for, and evaluated.  This should help the staff from having any 'practice slippage'.  Nothing is then assumed or forgotten by the coaching staff.  Every phase of the game is effectively and efficiently taught, reinforced, practiced, and repeated for the players' development in an organized system of practice planning.
The 'DAILY  PRACTICE  PLAN'  should contain certain key elements, such as:
1) the name of the activity,
2) the time period for that specific activity,
3) the 'major points of emphasis' for that specific drill or activity,
4) as well as the overall practice's 'major points of emphasis' for that day.
For the coaching staff's recordkeeping and evaluation purposes, each drill/activity can (and should be) classified into one of the twenty-one categories, with the amount of time spent, as well as the staff's overall evaluation of that drill/activity.   The 'DAILY  PRACTICE  PLAN' keeps the coaching staff focused and on task, avoiding the many types of distractions that can take place to prevent the staff from accomplishing what they have attempted to set out to do in that day's practice.  It also becomes an instrument to where they can critique and evaluate themselves, the practice, and their team's daily and overall progress.
PHASES,  ASPECTS,  AND  ACTIVITIES  INCLUDED  IN  THE  DAILY  PRACTICE  SESSIONS
01 STRETCHING &  FUNDAMENTALS  BREAKDOWN  STATIONS
02 OFFENSIVE FUNDAMENTALS 
100s) MIKAN DRILL, BABY HOOKS, 3 "DOT SHOT" DRILLS,"POWER" LAYUPS
200s) CLOSEOUT SHTG.-NO DRIBBLE,
300s) CLOSEOUT SHTG-DRIBBLE,
400s) 55 SEC. SHTG DRILLS  (INSIDE SHOTS, SECOND SHOTS, PERIMETER SHOTS
500s) 55 SEC. 'RAPID FIRE' SHTG.,
600s) POWER MOVES & SHOTS,
700s) FLEX BREAKDOWN  SHTG.,
800s) '35' SHOOTING CONTEST,
900s) "BEAT MICHAEL JORDAN" SHOOTING DRILL,
1000s) 'FOLLOW YOUR SHOT' DRILL,
1100s) 'FREE THROW "SWISH" DRILL',
1200s)  SOLO SHOOTING DRILL,
1300s) FT BONUS SHOOTING,
1400s) 'TENNESSEE FREE THROW  SHOOTING" DRILL
03 PRIMARY & SECONDARY FASTBREAK OFFENSE
a) Options (Chase & Stagger, Chase & Lob, Veer Cut, Early Ball-Screen, Late Ball-Screen.
04 MAN OFFENSES
a) MAN OFFENSE ENTRIES
b) MAN OFFENSE CONTINUITIES
c) MAN OFFENSE BREAKDOWN DRILLS
05 ZONE OFFENSES
a) ZONE OFFENSE  ENTRIES
b) ZONE OFFENSE CONTINUITIES
c) ZONE OFFENSE BREAKDOWN DRILLS
06 DELAY OFFENSES
a) DELAY OFFENSE CONTINUITIES
b) DELAY OFFENSE BREAKDOWN DRILLS
07 HALF-COURT TRAP OFFENSES
TRAP OFFENSE  CONTINUITIES
TRAP OFFENSE  BREAKDOWN  DRILLS
08 PRESS OFFENSES (vs. Zone Presses, Man Presses, Run & Jump Presses)
09 SIDELINE AND  BASELINE  "OUT-OF-BOUNDS" PLAYS  (OFF. AND/OR DEF.)
a) NORMAL' SITUATIONS, b) 'QUICK' SITUATIONS'
10 "LAST-SECOND SHOT"  SITUATIONS  (OFFENSE  AND/OR  DEFENSE)
a) FAR ENDLINE,    b) (Near) SIDELINE,      c) (Far) SIDELINE,      OR   d) BASELINE
11 FREE  THROW  SITUATIONS  &  JUMP  BALL  SITUATIONS  (OFFENSE AND/OR DEFENSE)
a) OFFENSIVE REBOUNDING "STUNTS"  ('Jack & Jill', 'Rambo', 'Kamikazi')
INTENTIONAL MISSES (on 'our' part  and our 'opponent's part')
12. LATE GAME  AND  OTHER   SPECIAL   SITUATIONS  (OFFENSE  AND/OR  DEFENSE)
13. DEFENSIVE FUNDAMENTALS  AND  BASICS
a) "Defensive Stance" Drill,
b) "Push-Push" Drill,
c) "Push-n-Talk" Drill
d) "PRIDE DRILL"
e) "SHELL DRILL
f) "0 MATCHUP  ZONE" SHELL DRILL
g) "PASSING GAME" LIVE ACTION (Offense and Defense)
h) "TRIANGLE POWER GAME" LIVE ACTION (Offense and Defense)
i) "FLEX GAME" LIVE ACTION (Offense and  Defense)
14. TRANSITION DRILLS
a)  FROM OFFENSE to DEFENSE ('Man' and Zone Offenses, from  BOB & SOB. Plays)
b) FROM OFF. to PRESS DEFENSES ('Man' and Zone Offenses, or BOB & SOB Plays)
c) FROM DEF. to OFFENSE  (('Man' and Zone Defenses, or BOB & SOB Defenses)
d) "SUPER TRANSITION" DRILL   (From 'Offense'  to 'Defense' )
15. ZONE & MAN  PRESS  DEFENSES
a) "10 Press"  Full Court  Press  Defense    (1-2-1-1  Full Court Zone Press)(3 Stunts)
b) "20 Press"  Full Court  Press  Defense    (2-1-2  Full Court Zone Press)( 3 Stunts)
c) "30 Press"  Full Court  Press  Defense    (Full Court "Face Guard 2 Press" Press)( 3 Stunts)
d) "40 Press"  Full Court  Press  Defense    (Full Court "Run and Jump or Trap" Press)
e) "55 Press"  Full Court  Press  Defense    (Full Court  Man to Man Press )
f) "DELAY" Defenses
16. "5" DEFENSE (Half Court Man to Man Defense)
a) MAN DEFENSE  INDIVIDUAL  BREAKDOWN  DRILLS      
b) MAN DEFENSE  TEAM  BREAKDOWN  DRILLS    (5 & 6-Man Shell Drill)
17. "0" MATCHUP  ZONE  DEFENSE   (1-1-3 Zone)
a) "0" ZONE  INDIVIDUAL BREAKDOWN DRILLS
b) "0" ZONE  TEAM BREAKDOWN  DRILLS
c) "3" Zone   (1-3-1  Matchup)
d)  "2"  Zone   (2-3  Matchup)
18. "1" TRAP (1-2-2 HALF  COURT  DEFENSE)
a) "1" TRAP  INDIVIDUAL  BREAKDOWN  DRILLS
b) "1" TRAP  TEAM  BREAKDOWN  DRILLS
19. ZONE DEFENSES
20. DELAY DEFENSES
21. 'BASKETBALL RULES' EDUCATION
a) Interpretations on various rules for different situations

22. CONDITIONING WORK
a) "Leaper/Jumper" Conditioning Work
b) or "Heavy Rope"  Work
c) or "Jump Box"  Plyo-metric Work
d) or "Weight Lifting"
e) and "Sprint Work"
f) and "Positive (Fun) Activity to end the practice"
g) and Announcements