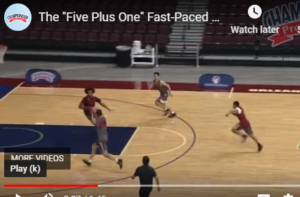 This video is with Fran Fraschilla former Men's Coach at Manhattan, St. John's and New Mexico. Currently an ESPN basketball analyst.
The purpose of my post is to get you to think about how you can create "Hustle" drills and or find ways to practice multiple skills in your drills to get the most out of practice time.
You will need to be on a network that allows you to access YouTube to view the video.
Click the play arrow to view the video.
There is narration with the video, so please make sure that your sound is on.
You can find out more about the Championship Productions video that this clip is from at this link: Maximize Every Minute of Practice: Drills to Build Intensity and Effort – Basketball — Championship Productions, Inc..
The video with Coach is available in both DVD and online format.
Click the play arrow to start the video.