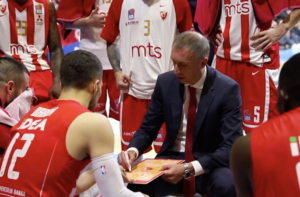 The best teams set the standard in the competition—Crvena Zvezda are one of them. Here's why this leader of the Serbia and Adriatic region introduced video analysis.
With 28 different sports, 698 trophies, and 42 Olympic medals, Crvena Zvezda has a rich and unique history of success. Known internationally as Red Star Belgrade, the Crvena Zvezda basketball team carry on the legacy of success in their own right. They've won 20 Serbian championships and four Adriatic League titles, one of which just happened in the 2018–19 season. They even compete in the Euroleague, the highest level of professional basketball in Europe.
So how do you improve a team that's already a leader in the region? Assistant director of basketball Nemanja Vasiljevic believes the introduction of video analysis will take Crvena Zvezda to the next level.
"We wanted to allow our coaching staff, especially in the first team, to do a better job and better work. And Hudl, together with Hudl Sportscode, is the leader in that field," said Vasiljevic.
Crvena Zvezda is the first basketball club in the region to introduce video analysis and completely modernise their analysis workflow. According to Vasiljevic, the Serbian league currently lacks speed and efficiency.
"Basically, our coaches, they watch the videos which they cut them themselves and do what you would say is an 'old school' process," said Vasiljevic. "With Hudl this process is going to be a lot faster. For example, we often play a game yesterday, and then we play the next game tomorrow, so you have only one day between the games. You need to prepare the scouting and reports and everything beforehand."
---
---
It's not just the first team who lead the pack. Crvena Zvezda has a thriving women's and youth section who will also reap the benefits of having video analysis. In fact, this setup will be integrated throughout every level, for every player and coach.
"Everyone in the club, the coaches and the players, will improve themselves, and their jobs will become easier, especially for the coaches," said Vasiljevic.
Vasiljevic believes this willingness to innovate is a key reason why Crvena Zvezda will continue to be a top side in the region.
"We as a club want to follow innovations in all fields," said Vasiljevic. "Hudl is great because it is new technology, it's innovative and you can use it on your mobile phone, tablet and all devices. Now you can share everything really fast to the players with comments and video clips."
"Everyone in the club, the coaches and the players, will improve themselves, and their jobs will become easier, especially for the coaches"
And they aren't stopping with just the Hudl platform. Crvena Zvezda also plans to use Hudl Sportscode for access to real time reports and in-depth data.
"It's great because with Hudl Sportscode, you can have in the same minute the reports and everything during both practice and during the game," said Vasiljevic. "Coaches themselves, in live time, they can code games and get back the data they want to see. So they are going to bring Hudl Sportscode everywhere with them. We are going to have it for all practices and for both home and away games.
Crvena Zvezda are full of excitement for the potential that video analysis can bring their club both in terms of performance and modernising outdated workflows.
"When you bring the new things that can help someone to do their job easier, it's a good thing. I think the coaches will love it and the players will also. We have big expectations from this project we are going to do with Hudl. I'm sure that together we can become the leaders not only in Serbia, but in the region and this part of Europe."