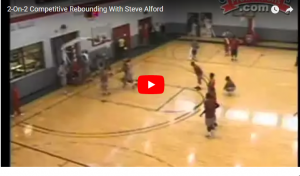 This video is a competitive 2 on 2 rebounding drill used by Steve Alford when he was Head Basketball Coach at New Mexico. He is currently the Head Coach for the men's team at Nevada.
This is a drill that he likes to use almost daily.
Click the play arrow to see the video and make sure your sound is on as you watch.
The video is a You Tube video.
If you are interested in more information about the DVD that this sample came from. click here: All Access Basketball Practice with Steve Alford

Steve Alford Rebounding Drill
There are links to more basketball drills below this post.
If you are interested in more information about the DVD that this sample came from. click here: All Access Basketball Practice with Steve Alford