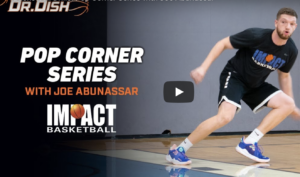 This skill development drill is provided by Dr. Dish Basketball.
The drill is coached by Joe Abunassar of Impact Basketball.
You can and should modify any of the drills to make them fit your needs or to add variety to your skill development work.
Please make sure your sound is on to see the video.
This drill is hosted on YouTube, so you will need to be on a server that allows you to access YouTube to see the drill.
Click the play arrow to see the drill.
This drill isn't flashy, but it is a really good drill that definitely is something that happens in games that players need to work on. I like the emphasis on staying in bounds which is something that needs to be emphasized and practiced for players to be aware in a game. Stepping out of bounds when preparing to catch and shoot is a needless, senseless unforced turnover that should never happen.