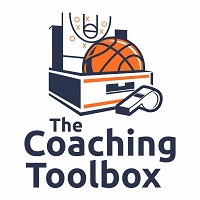 The Coaching Toolbox has hundreds of free resources for basketball coaching
The coaches at the Coaching Toolbox feel that more basketball games are lost than won at every level. This is especially true when the competing teams talent level is close, as it is in the NBA playoffs. In those cases, our belief is that more teams make bad plays to lose then teams make good plays to win. We do not promote a "playing not to lose" mindset, but rather a "playing not to make plays that cause us to lose"–there is a huge difference.
This post is not meant to criticize the NBA players or NBA basketball coaches. They are the best in the world and compete on a level that most of us will never ascend to. The purpose is to show that even Gregg Popovich and Phil Jackson's players make mistakes at crucial times, so no matter how experienced the basketball players we work with are at our levels, they need constant teaching and coaching to perform at their best when the pressure is on.
I will admit that I was working as the game was being played and did not catch everything, but I did see a few mistakes that our players can learn from.
The handoff from Oberto to Ginobili was executed improperly.Again, they are going at an incredibly rapid pace and have Kobe Bryant defending them, but the fact is that the player handing the ball must not push it into the receivers hands (even if those hands belong to Manu Ginobili). The proper way for a hand off to be executed is for the player holding the ball to protect it and to allow the player receiving the ball to take it from his or her hands.
The resulting turnover was a dunk for Bryant that really buried the Spurs chances of winning. That is until Bryant handed them an opportunity to get back in the game by taking a shot that should not have been taken. We will touch on that in tomorrow's post.
The Coaching Toolbox has hundreds of free resources for basketball coaching.