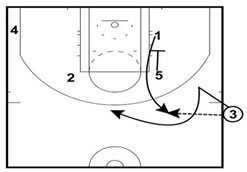 The play is an end of game set when you need a 3 point shot.
It is diagrammed as a side out play, but can be run as a live ball set by having 3 make a dribble entry to the wing.
It needs at least 5 seconds to allow for a tip in if the initial shot is missed.
With the hammer action on the weak side and the late flare, we should have at least 3 – 3 point opportunities..
In the event there is a deficit of 4 or more, 1 may be able to keep the ball and drive in for quick score. Everyone else is spread out beyond the 3 point line to take away the help – then foul right away and play another play…
3 is the inbounder.
5 sets zipper screen on 1 to the top.
After inbounds pass to 1, 3 sets his man up for hand back from 1.
5 sets step up screen on 1 for baseline drive.
4 flares 2 to corner 3 point for baseline drive, baseline drift action
4 then pops high to 3 point line…as this occurs, 5 continues to set flare on 3 man for follow action behind 1.