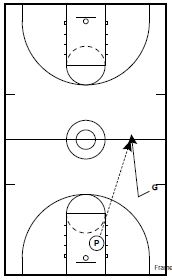 Another outstanding contribution from Nate Hill. Coach Hill is the Assistant Boys Coach at Colonel Crawford High School in North Robinson, Ohio. I appreciate all the ideas you send out for the coaching community!
In case you have any questions or comments for Coach Hill, here is his email address: [email protected]
You can also find him on Twitter @coachnatehill
We get conditioning – 6 – 12 trips up and down the floor
We get game shots – rim runs, transition layups or pullups, post entry, and pick and roll work
We can use side baskets if we have lots of players.
Diagrams created with FastDraw
DO ALL DRILLS ON BOTH SIDES OF THE COURT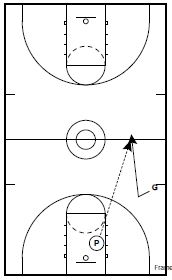 Kevin Love Outlet:
Post rebounds and throws Kevin Love outlet to guard for layup
Rim Run:
Coach inbounds to guard
Post rim runs
1 hits post for layup
Throw Ahead
Coach inbounds to guard,
Guard passes ahead to coach
Post rim runs.
Coach hits guard for 3.
Throw ahead, post scores
Coach inbounds to guard
Guard throws ahead to coach
Coach enters to post
Drag Screen Guard Scores
Post outlets to 1
Post sets a DRAG screen for Guard.
Guard can shoot it or drive it.
Drag screen post scores
Post inbounds to Guard,
Sets DRAG screen,
Guard hits post on the roll