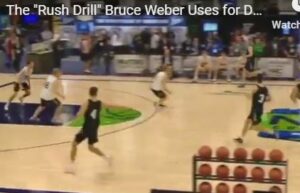 You probably already do something similar to this to work on conversion defense. To make communicating to to our players more clear, I like to use the term "conversion" when we are going from offense to defense and "transition" when we are going from defense to offense.
I think that there are 3 key teaching points from this video for your conversion defense.
It isn't the drills you run that help you improve, but the way you teach execution and how well the drill correlates to improving a skill that will influence the outcome of a game.
#1–Every time you do any type of conversion defense drill, play your defense rules. Coach Weber's are having a player at the basket and a player pick up the ball. I know that in the video he wants the ball corralled earlier than this group of players picks up the ball.
#2–All players are sprinting.
#3–You don't pick up your assigned man to man player, but you pick up the closest open player.
His two versions of the Rush Drill are on the baseline/ft line and out of 4/0 offense into conversion defense.
I also like to play live 4 on 4 or 5 on 5 and yell "change." Offense sets ball down and converts to defense. in my opinion, this is as close as you can come to simulating trying to defend a live ball turnover. You can also add the requirement to the drill that on the change of possession, you have to guard someone other than who guards you. I would rather emphasize picking up the ball ASAP and getting another player back to the basket, then picking up open shooters.
You will need to be on a network that allows you to access YouTube to view the video. Click the play arrow to view the video. There is narration with the video, so please make sure that your sound is on.
You can find out more about the Championship Productions video that this clip is from at this link: Developing Defense Through Practice Drills
The video with Coach Weber is available in both DVD and online format.