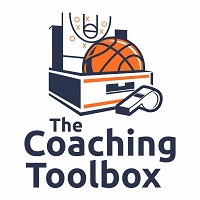 Thinking about spring and summer, here is a list that was published on Bob Starkey's Basketball Coaching Blog, hoopthoughts.blogspot.com. He has been posting for several years and there are hundreds of posts with ideas to make your program better.
Pickup Game Guidelines
Bob Starkey
From my days at LSU, I have always had a list of guidelines for our team to follow in pick up.  Let's be honest: pick will rarely if not never be a thing of beauty.  There is no atmosphere more conducive to slippage than that of players playing without supervision from a coach.  To me, there are four things needed for successful pick up play.
#1 A Definition of Good Pick Up Play
As a coach, you must paint a picture of what good pick up will be and what it will achieve.  For us, a good game of pick up has energy and enthusiasm.  It is a group of players that enjoying playing with each other and playing the game of basketball.  It is also a noisy proposition.  Lots of talking and chattering.  Players are talking the game.  They are encouraging each other and holding each other accountable.
#2 Leadership
Good pick up basketball has leaders that get things going.  It's time to play — let's get it!  They have a sense of urgency — here's out teams…Maroon ball…let's go!  They play hard and smart — they set a visual example.  They encourage and correct their teammates.  They are the eyes, ears and mouth of the coaching staff.
#3 Committed Team
Good pick up basketball has a team that is committed to improving.  They understand that every time they step on the court they will either get better or get worse. Teams that get better during the summer are holding each other accountable for effort and execution in pick up games.
#4 Guidelines
I've always believed that a good set of guidelines can help a great deal.  The team is "navigating" through the summer without you but you can provide a "road map" with some good guidelines.
Here is our list:
ALWAYS PLAY MAN TO MAN DEFENSE
Good pressure on the basketball (even if you get beat on the drive)
Get a hand up on every shot
Make contact, blockout, and finish the possession
Ball Screens: Hard Hedge and Recover
Off Ball Screens: No switching
START WITH HALF COURT GAMES
Even if you have enough for 5/5, start with a couple of half court games
Will help us to develop our man defense and offense principles
UTILIZE CONVERSION
After half court games, finish up with full court games
Progression will always be: Primary, Secondary, Offense
Even 4/4 games can be played full court
Regardless of situation, all 10 players should cross half-court on each possession
TAKE ADVANTAGE OF EVERY OPPORTUNITY TO PLAY
3/3, 2/2, 1/1
Play, play, play
COMMUNICATE
No music on during pick up
Talk: Encouraging, Corrective, Instructive
BE A GOOD TEAMMATE
Encourage teammates
Upperclassmen teach our freshman how we play
Help freshman to understand offensive/defensive principles
PLAY HARD
Is there any other way?!
THERE WILL COME A TIME
WHEN WINTER WILL ASK,
"WHAT HAVE YOU DONE THIS SUMMER?" 
The remaining ideas are from Alan Stein, Basketball Performance Coach at DeMatha High School of Pure Sweat Basketball
To ensure our players maximize their 5-on-5 play; we implement the following 5 rules:
Every offensive player must be in the front court when a point is scored. If not, the basket does not count and it is a turnover. What happens on a quick steal or a long outlet pass? You better sprint!!
Every defensive player must be in the front court when a point is scored. If not, the basket counts and the offensive team receives another possession. This helps eliminate standing and pouting after a turnover, missed shot or no foul call.
Defense calls fouls. No arguments. No exceptions. However, we strongly encourage our players to limit calling fouls, as we want them to get used to playing with severe contact.
Games are played to 21, with 2's and 3's. All 10 players are expected to call out the score on every possession. We choose to play to 21 because it simulates the length of a quarter (8 minutes-ish) and creates a superior platform for conditioning. It also allows for a comeback (if one team jumps out to a 12-2 lead, you still have plenty of time to come back and win).
The player that scores the game winning point must immediately step to the free throw line and make a free throw. If so, the game is over. If not, the game-winning basket is erased and play resumes.