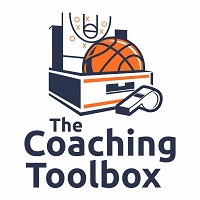 This post was written by Andy Rochon. He is the boys JV coach and Varsity Assistant at Ocoee High School in west Orlando. His site is about his system of Symmetrics. He has several other posts on the site with ideas for quantifying ball movement and player decision making. Click the link to see more of his concepts: Symmetrics
Editor's Note from Brian. I realize that many coaches reading this blog do not have the time or the resources to apply all of these ideas. However, I hope that you might be able to apply some of the concepts on a smaller scale. If you have a player or two that you are trying to get to react quicker or be more aware, you could apply some of these ideas to help them. Or, you could time just a few possessions just to identify where the sweet spot is for your team.
**Pete Carril said, "be good at all things that happen a lot." I truly believe that is the cornerstone of what Symmetrics is about!**
Now it is time to take a look into HOW we track Tempo. The 3 parts of Tempo are Pace(total number of possessions), Player Movement(average speed at which players cut/sprint while performing decision/action), and Average Length of each possession on offense/defense). When I was an assistant at State College of Florida I had one player that these three numbers helped tremendously, especially on the defensive side of the ball. It was a neat process to watch him go from being inactive/disinterested to a bouncy/active defender who averaged 2.8 blocks per game at 6'6.
Here is how you can apply the numbers to your coaching philosophy/game plan. Knowing the Pace or how many possessions your team creates in a game is important. This lets you know if you are getting enough offensive opportunities. Opportunities are vital for teams, while the amount of good opportunities may be important for others. Either way my colleagues has expressed know how many possession their team averages a game is a stat they want to know.
Next, is Player Movement and this is a little bit tougher to track each instance an action/decision is committed. This is why we have each player perform 5 trials of a given action/decision, add each individual score and divide people total number of teammates who performed the action/decision, and that is how we get a verage speed of each action/decision. These numbers are very similar to average speed numbers the NBA is tracking on the SportVu cameras(average speed while sprinting up/down floor, total miles ran, ect). These numbers let a coach know if their players are are putting in the EFFORT or playing with ENERGY you want your players to play with.  In Symmetrics we call this the   JUICE INDICATOR and will be solely based on how much energy you expend while playing the game(aka the faster you move the more energy you produce).
The last and most important part(my opinion)to tracking Tempo is the average time spent on offense vs average time spent on defense. Why is this important you might ask? Back in '07 when the Phoenix Suns 7 seconds or less uptempo style was popular it was important for them know how many times they got a shot in 7 seconds or less, how many possessions did this take place, and stats showing how efficiently they performed in these situations(makes/misses, turnovers, fouls, ect). Knowing that information allows the staff to know whether or not to tell them to perform the action more or less based on stats look. For example, when I was at SCG our offensive style was similar to the Spurs. We wanted to come up the floor, move the ball, drive and kick to get 3 or best shot in the paint. If our time on offense was only averaging 10 seconds I would urge our players to make a few more passes, foot fight with their defender when they catch, or enter the ball to the post. All three of these decisions that turn to actions allowed us to possess the ball just a few seconds longer. Which gives more time for the defense to breakdown or make a mistake. May seem minor, but ball/player movement makes all the difference possession by possession when wearing down an opponent. Defensively, to wear down opponents we would really get out and put pressure on the ball. Our secondary defenders aka help side would sit in gaps to protect against dribble penetration(pack line principles w/pressure on the ball). This didn't allow for ball handle to be comfortable and make direct line passes, and it didn't up as many uncontested shots because we closed out to everything like pack line teams do.
Here is how Raheem and I would go over these numbers. On the bus ride home(it's juco so usually 2+ hour trips)we would sit and just talk hoops. He would tell me about his life living between Canada and the United States, the players he has had the opportunity to play with and against, as well as his overall knowledge of the game. Somewhere in between him talking about his Juco stint in Casper, Wyoming he said something that I'll never forget. Raheem said, "Coach I feel like in my head I know what to do, but I can't get my teammates to do it or sometimes I mess it up." To me this is a kid who is trying to be a leader for a team full of players who were trying to get theirs. This is when we started talking about Player Decision-Making.
After, each game we got on the bus and sat down and talked about the good, the bad, and the downright horrific!! Yes, there were times where we would have to agree to disagree. That is the beauty of Symmetrics, it is all about tracking your decisions/actions and you do not have to change if you do not want to(Your playing time may though). A typical night riding home on a big charter bus we would watch college basketball on our phones and I would go through the team report. For example, I'd say, "Heem as a team we were 1st help defender was Late to help on dribble penetration 18 times, we gave up 14 points on 4/6 shooting(2 3pt FG), they drew 5 fouls, and our 2nd help wasn't there 11 of 18 times our 1st help was late. I'd explain to him what a contested shot looked like, how many he attempted vs how many he made, and other actions/decisions he could do more of to score a few extra basketball because of his great athleticism(Offensive Rebounds/Tip ins).
Now I'm telling you we did this almost after every game, except for the really hard loses or the few major wins we had that year. He truly changed as a player, not because I am a genius, but because he was willing to listen and grow as a player. I wanted to observe to see how well he would understand terminology, how quickly he was able to apply the information, and Symmetrics was the reason he became aware enough to ACT instead of REACT to situations on the floor.
Over the last three seasons I have tracked Tempo in this way and have found it extremely useful for our coaching staff and players.
Now I want to share Symmetrics with as many coaches possible who are looking to have an immediate impact on their team! This is not to reinvent your philosophy or revamp your style of play. Symmetrics is just to categorize and organize your philosophy into simple cues, in your terminology, that players and your coaching staff can easily remember and apply to practice or games right away!
Thanks again for reading this if you stuck around until the end. Spend some time this weekend thinking about which decisions/actions you value or do not value. Then begin plugging them into the various Risk categories. Is the decision which leads to an action low in risk and high in reward? Then it belongs in the Low Risk category. Is the decision high in risk and low in reward? Then it needs to be added to the High Risk category. If the action is something that depends on the player's skill set, time/situation, and/or positive only outweighs negative by a little or vise versa then it belongs in the Mid Risk + or – category pending on which one carries more weight.(ie: 50/50 ball= Mid Risk+ because there are more positive outcomes by diving for a loose ball instead of trying to dribble a loose ball).
About the Author of This Post
This post was written by Andy Rochon. He is the boys JV coach and Varsity Assistant at Ocoee High School in west Orlando. His site is about his system of Symmetrics. He has several other posts on the site with ideas for quantifying ball movement and player decision making.