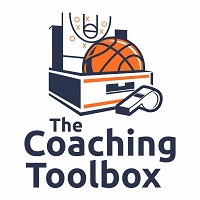 I believe that playing one on one is an important part of skill development–both for finding scoring moves and the ability to control the dribble.
One thing that it doesn't do however is develop the awareness of helping defenders.
Hopefully you can either use these drills in practice or can encourage your players to use them in the improvement season to help with that awareness.
I found these three one on one drills in the FastModel Sports Basketball Plays and Drills Library.
You can also find out more about FastModel Play Diagramming software by clicking this link: FastDraw
Spanish 1 on 1
Contributed by Fabian McKenzie, Cape Breton University Women's Basketball. He has been involved with the Canadian Women's National team program for the past 6 years.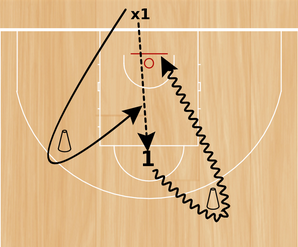 X1 starts with a ball on the baseline
1 starts at free throw line
X1 passes ball to 1.
1 must dribble around cone and attack the basket
X1 must sprint around their cone and attempt to stop 1
Vary the locations of the cones for each player to increase the level of difficulty
Beat the Helper 1 on 1 Drill
Contributed by Taylor Jannsen
Great drill to help teach players how to beat rotational help with a variety of finishes.
Editors Note: I like the concept of the drill, but don't like to see the offensive player going away from the basket. I would try to play it more like turning the corner or coming off a ball screen. I would try it a couple of different ways and see which way you like best.
On the offensive player's first move, the defense loops around a cone and simulates a help defender.
Player 1 pushes the dribble out in front and must touch the paint before attempting a shot.
1 on 1 Rollout
1. Offense rolls ball to opposite elbow; defense has to touch elbow but needs to get behind the roller
2. Offense gathers the ball at the elbow; defense touches the elbow
3. Offense attacks the rim looking to draw contact! There will be collisions!!! — Defense challenges at the rim.
There will be contact at the rim!