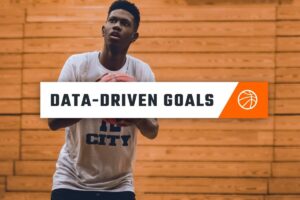 Learn how to track goals on Hudl, then use that knowledge to improve. 
As your season progresses, you'll want to track and reflect on your goals—we know that can seem a little daunting. That's where Hudl can help.
In this exercise, you'll learn all the ways you can track your stats on Hudl and how those automatically flow into your reports. You'll also walk away from this exercise with new ideas on how to connect with your athletes and learn from your team's goals.
People:
Coaches and Athletes
Time:
35 min
Materials:
Post-game evaluation worksheet (one for each game your team plays this season).
Step One: Learn how to track stats on Hudl. 
Coaches rely on stats daily, and we wanted to make that process as easy as possible. That's why we have three easy ways to get the stats you want so you can make the adjustments you need.
Track stats live.

This is the option for you if you want all the stats right now. Grab an injured player, student manager or parent to tag team stats in the Hudl app at the game. You'll have them available to reference during the game, and all the data will be ready to upload immediately after the final whistle.

Do them on your computer after the game.

You want stats, but you don't fully trust your student manager to pay attention to the game (thanks, Snapchat). Add team and player stats after the game for a surefire way to get what you want.

Send your games to Hudl Assist.

Less work, more play. With

Hudl Assist

, you'll let us handle the stats so you can save your time and energy for coaching.
Step Two: Explore your automated reports. 
No matter how you track stats, Hudl will generate powerful reports to bring those numbers to life. So you can see your effective field goal percentage for a single game, or the entire season in an instant. The best part? Stats are linked directly to video—just click any underlined stat to view the video associated with it. From there, you can create a playlist in just a few clicks for video review later on.
Step Three: Dig into your goals report. 
Add the team goals you created in exercise three to your goals report on Hudl. If you set a goal to have your field goal percentage greater than 48%, or your offensive rebound percentage 5% greater than your opponent's, we'll track how well your players crush it throughout the season. All you have to do is make sure your stats are added for each game—we'll take care of the rest.
Here's what a goals report looks like for three games. There's a green check icon if you met your goal in that game, and an "x" if not.
Stats? Check. Goals report? Check. Now comes the fun part—it's time to dive into the "why". What went well in the game where your team reached their goals? If they weren't accomplished, what prevented it?
Here's a list of ways your team can dive deep into your goals, and the stats associated with them.
Use this worksheet to do a post-game evaluation. Track whether or not you met your goals and why.
Create a playlist of the key moments that led to your team hitting your key goals, or how they missed the mark. Then, when you're doing your post-game evaluation, you can look straight to the video to see what went wrong, and what went well.
Have each athlete create a weekly top 5/bottom 5 playlist. This will help your athletes feel like they have input, and it can give you a fresh perspective. Sounds like a win-win, right?
Do an end-of-season retro with your team. Take some time to go over your reports on Hudl to get the full picture on how things went. Ask yourselves if you set the right goals, and start the conversation about what adjustments need to be made next season.
Hold virtual office hours for your athletes. A couple hours each week when they know you're available by phone, email, text or Hudl messaging for any questions they have. This can help strengthen relationships, help with one-on-one questions and give your athletes a chance to ask questions privately, instead of in front of the whole team.
What's next?
Boom, completed. Your coaching staff should now know how to track stats on Hudl and understand how your reports are based on them.
Your athletes will be able to identify where they killed it and where they can stand to improve, all based off their data.
And as a team, everyone will be aligned on your team's performance thanks to the stats and goals you set. Feel free to celebrate—you earned it!