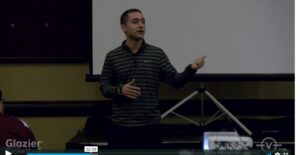 This video of Holy Cross Men's Assistant Coach TJ Rosene discussing a 1-3-1 defense for defending underneath inbound plays.
At the time Coach Ferry gave this talk, he was an assistant at Monmouth.
The content is located on the Glazier Coaching Vault.
Sam's entire presentation is available along with all of the basketball content in the Glazier Vault at this link: Basketball Glazier Vault Access
Coach Ferry gives credit to Kevin Stallings for teaching him how to coach this defense.
You will need to click on the image of the video to start it.
This is a YouTube video, so you will need to be able to access YouTube in order to view it.