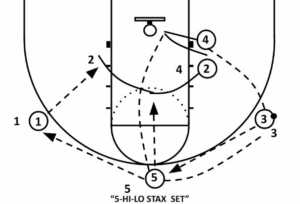 This play was submitted by John Kimble.
Coach Kimble is a retired Basketball Coach who coached High School teams in Illinois and Florida, as well as Central Florida Community College.
He is the author of five published books and over 25 DVD/Videos by Coaches Choice and Healthy Learning.
John has written over 100 articles from several different basketball magazines.
He has been a regular contributor of articles on many topics to The Coaching Toolbox.
Frame 1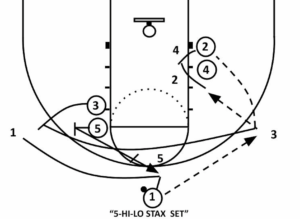 3 pops out of (5-3) 'Pin-Down Screen' & then immediately 'Iverson Cuts' over the top of 5 to the opposite wing. 1 makes the 'Wing Pass' to 3 and then Flare-Cuts off of the (5-1) 'Flare-Screen.' At the same time, 2 makes a tight curl through the lane around 4 and 'stacks up' on top of 4. With 2 now stacked above 4, 3 has more room to make a 'Lob Pass' or 'Inside Pass' to 4 or also to 2 now at the 'Mid-Post' area. If not, 3 can reverse the ball to 5, who has also stretched his 'big defender' out to the top of the key.
Frame 2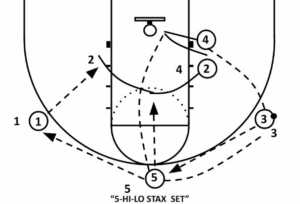 If 3 reverses the ball out to 5, 2 immediately makes an 'Inverted Duck-In Cut' into the 'Dotted Circle' area, while 4 steps to the rim for a possible 'Lob Pass' from 5. If 2 does not receive the 'Inside Pass' from 5, he continues across the lane to post up on the other side. If 4 does not receive the 'Lob Pass,' he returns to post up on the same side of the lane. All five players have now moved their defenders and are in the '3-Out/2-In Spot-Ups" to continue to the next phase of the offensive attack.