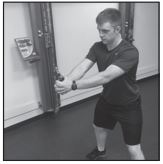 By Jon Sanderson MS, CSCS, MSCC, USAW, NASM-CES, TPI, FMS
Head S&C Coach Michigan Basketball
Jon Sanderson has been the head strength and conditioning coach for the University of Michigan men's basketball team since 2009.
Regarded as one of the basketball strength and conditioning coaches in the business, Sanderson is the only strength and conditioning coach in NCAA history to participate in a Final Four as a player (Ohio State in 1999) and a coach (Michigan in 2013 & 2018).
Before joining the Michigan staff, Sanderson spent three years (2006-09) working at Clemson as the men's and women's basketball strength and conditioning coach, as well as the director of the Littlejohn Coliseum weight room. During Sanderson's time at Clemson, the men's basketball team won 20 or more games for three straight seasons — a first in program history. Also, during those three seasons, only North Carolina and Duke had more wins than Clemson in the ACC.
Prior to his time at Clemson, he served as the head strength and conditioning coach and sports nutrition coordinator for Olympic sports at Marshall University (2003-06). Before heading to Marshall, Sanderson was a strength and conditioning intern at North Carolina, working with the men's basketball program (2002-03).
Throughout Sanderson's career with the U-M basketball program, he has trained 11 student-athletes that have gone on to play professional basketball in the NBA, including MDarius Morris, Manny Harris, Tim Hardaway, Jr., Trey Burke, Nik Stauskas, Mitch McGary, Glenn Robinson III, Caris LeVert, D.J. Wilson, Derrick Walton, Jr. and Moritz Wagner.
If interested in the Camp Sanderson S&C program powered by Blueprint Athletes App
Apple Phones   https://apple.co/2FYcJ00
Android Phones   https://play.google.com/store/apps/details?id=com.blueprintathletes.android
The following anti-rotation exercises can be performed in a tall or half-kneeling position, normal stance or a split stance, and with either a band or pulley mechanism.

Trunk/Core Stability–Pallof Hold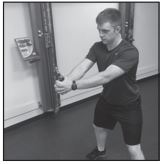 Begin in in an athletic stance with your shoulders perpendicular to the cable column and holding the single attachment above your belly button.
Press the attachment away from your body until your arms are fully extended, then hold for the specified time.
Repeat on the other side.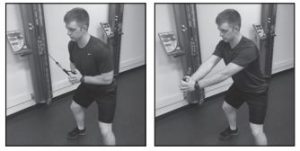 Stand in an athletic position holding the pulley attachment just above your belly button.
Press the attachment to an arms-length in front of you and return it back to the starting position.
Repeat on other side.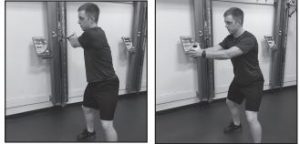 Stand in an athletic position, perpendicular to the cable machine, with arms extended toward the column, and hold the pulley attachment at just below shoulder level.
With a stable trunk, move your arms from the start point to the finish point.
Repeat on other side.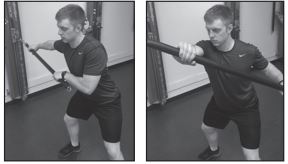 Begin holding the rod with your hands about 18 inches apart with a double overhand grip, shoulders perpendicular to the column, and arms extended out toward the column.
Pull the rod toward you until your arm closest to the column is on your side, then rotate and punch that arm upward while keeping your feet flat.
Return to the starting position and repeat for specified reps.