These ideas for a double and triple gap drive are from Matt Hackenberg's 47 Gap Drive Sets Playbook on CoachTube.
These 2 concepts are run from 4 around 1.
The playbook is available as a free download from this link: 47 Gap Drive Sets Playbook.
Cutting and Spacing can create momentary gap driving opportunities.
Other factors to consider in creating gap drives are the offensive positioning of players that the defense won't help off of. Those could be a great three point shooter, or just defending a great player that the defense is trying to keep from getting the basketball.
Below the images, there is a YouTube video with a few more gap driving concepts.
Use these and all ideas as a place to start to think about ways that you can use your personnel and your schemes to improve driving opportunities.
Double Gap Driving Lane
4 sets a wide pin down for 3
1 runs a dribble hand off exchange with 2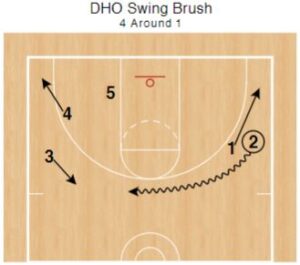 4 and 2 space to the corner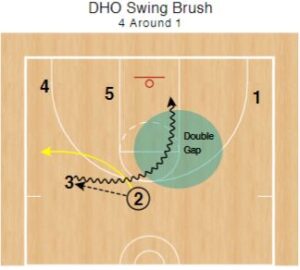 2 passes to 3 and then cuts to the wide wing (free throw line extended)
3 drives into the double gap.
Triple Gap Driving Lane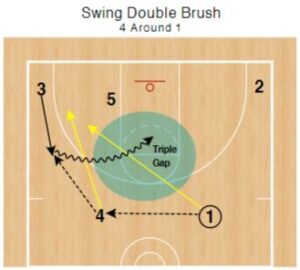 Initial player positioning is the same as above.
3 lifts
1 passes to 4 and cuts through (yellow line)
4 passes to 3 and cuts through (yellow line)
2 should be a player that the defense is reluctant to help off.
More Gap Driving Concepts