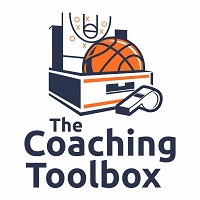 Originally posted by Alan Stein on his Stronger Team Blog (re-posted with permission)
Something to share with your players.
Written by: J.P. Clark
@CoachJPClark
LA Clippers: Assistant Skill Development Coach
"I don't want to be any good."
"I don't feel like being the best."
"I want to be mediocre."
Have you ever heard someone actually say (out loud) those things? Nope. Neither have I.
But do you know players (and coaches) that have habits and behaviors that 'scream' those things? Yep. They are a dime a dozen.
Which is weird because human beings have an innate desire to be great and to become special. Deep down, we all want to live to our greatest potential and to become the best at what we do. The question is; how do we fully maximize our talents? How do we live to our full potential on and off the court?
The reason I have selected this topic is because I have seen so many players unable to fully maximize their talent. I've seen it at every level – from high school to the NBA. I would like to share a few suggestions that I've learned and observed from working with some of the best players and coaches in the world.
I will start off by saying, when it comes to fully maximizing your talent; everyone has a different starting point. Some folks were simply born with more 'advantages' and raw talent. LeBron James was born with more 'tools' than the average person!
[adinserter name="Basketball in article display ad 2 rebecca"]
However, being able to fully maximize your own potential has very little to do with your initial level of raw talent. There are countless stories of players with incredible talent and potential who never amounted to much because of poor work habits, character issues, and lack of discipline.
The Talent Code Author Daniel Coyle sums it up perfectly, "Talent is determined far less by our genes and far more by our actions."

Here are 5 Keys to Maximizing Your Talent:
1. Great Players Have a Well Defined Why
Great players have a specific purpose and a personal mission. Great players know who they are and they know exactly what they want. Great players have a clear vision and have already set up their goals to make their dreams a reality. The best know why they play the game. The best know why they get out of bed every morning. Simon Sinek is the author of the book, Start with WHY. He commented in his book, "People who work with a clear sense of why are less prone to giving up after a few failures because they understand the greater cause." Or as author Jon Gordon commented, "Our purpose is our ultimate guidance system that provides us with direction for our lives. Purpose fuels us with passion, and this passion gives us confidence to go after our dreams." Great players know their why! Do you?

2. Great Players Have a Plan of Action
Once you know your personal why, then the only question you have to ask is, how? How will I achieve my goals? How will I live up to my why? How will I go from good to great? Great players understand that whatever got them here will not get them there. Great players come up with a detailed plan of how they will improve upon their strengths and weaknesses in order to achieve their goals. Remember, great ideas without a plan is merely a delusion. Just like in a real game, we have to be able to execute the game plan to be successful! We must have a detailed game plan mapping out our road to success. Great players have their goals written down and a plan of action to achieve them! Do you?

3. Great Players Outwork the Competition
When you talk about work ethic, one of the greatest examples our game has ever seen is former Boston Celtic, Kevin Garnett. Despite having compiled a Hall of Fame career that spans almost two decades long, KG is still fanatical about his daily routine. He gives 100% every single day. As you can imagine, KG works extremely hard at all times. KG outworks everyone, every time. Doesn't matter if it is a pre-game shoot-a-round, a mid-season practice, or Game 7 of the NBA Finals – he goes hard no matter what. Coach Doc Rivers commented on KG when he first got to Boston, "I knew KG had great intensity. But I didn't know he had it full time, on and off the floor. His intensity in practice spread to our entire team. He set the team's tone with his own effort." Great players outwork their competition. Do you?

4. Great Players Believe in Themselves
I have this listed at #4, but it may be the most important. Great players believe in themselves. They expect to perform at a high level because they have put in the work. Kobe Bryant once said, "The best believe in themselves. I have a determination where I don't think anybody I line up against, on any given night, will be able to out-will me, I just refuse to believe that."
Great players have a disciplined mind that allows them to believe in themselves even as negativity begins to set in. Great players understand the importance of controlling their attitude and effort. Great players believe in themselves. Do you?
5. Great Players are Lifelong Learners
Great players know they can't reach their full potential alone. They know they need constant help along the way from teammates, coaches, trainers, etc. One of my favorite Doc Rivers phrases is, "If you want to go fast go alone. If you want to go far go together." Great players understand the value of seeking wisdom and direction from their mentors and coaches and players with more experience. Great players understand greatness is a lifelong mission. Great players understand they can't do it alone. Do you?
A long-time friend and colleague, J.P. Clark of the LA Clippers, was kind enough to submit this blog post (I only did some slight editing). Coach Clark is someone I had the pleasure of meeting years ago and I have a tremendous amount of respect for his passion, commitment to excellence, and keen basketball acumen. He is a first class guy on and off the court and I appreciate him submitting this piece.
I plan to use these 5 keys in my own life and coaching career.
Do you?
Alan Stein
Hardwood Hustle Blog
http://www.About.me/AlanStein