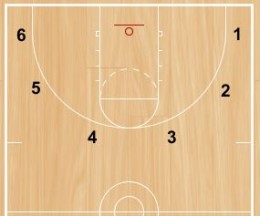 These three shooting drills came from Arkansas Women's Coach Mike Neighbors when he was at the University of Washington.
If you would like to subscribe to his newsletter, email me and I will forward your interest on to Coach Mike Neighbors.
He is not publishing it at this time as he is making the transition between jobs, but will have it up and running again at some point.
I hope that these drills help you to provide some variety into the essential repetition that must take place to have a team that shoots well.
Diagrams created with FastDraw
Hubies
This is a Game Shot/Game Spot drill… the best will go at Game Speed too
Put 3:00 on the clock.
Shooter is attempting 2 point shots at 15-17 feet. She stays at one spot until she makes 3 shots in a row… The string of 3 in a row=1 Hubie. She moves to another spot as quickly as possible and continues until time runs off the clock. Your best shooters should be able to complete between 10-15 Hubies.
When attempting 3 point shots, the shooter must only make 2 in a row to equal a HUBIE. Your best shooters should make between 28-25 HUBIES.
We always have a passer and a rebounder doing this drill so you may have to adjust your numbers accordingly. Keep the conditions the same when you are charting and comparing.
Big Shot
Shooter begins at Spot 1. Shooter remains at this spot until she misses two consecutive shots. After two consecutive misses you must move to
Spot 2. Again you make as many shots as possible without missing two in a row. Continue to Spots 3, 4, 5.
Each make is worth 1 to your score. BIG Shot is designed to be cumulative score of the total makes at all five spots.
You should attempt range appropriate shots. Shots do not have to be 3 point shots.
For a Division I Women's team, these are recommended scores. You can set your scores at a level that are appropriate for your players.
Your best shooters should score above 500 on 2 point shots. Your best shooters should score above 200 on 3 point shots.
Star Shooting
Shooter begins in corner at spot 1. Make or miss sprint to spot 2, then to 3, then to 4, then to 5 attempting a shot at each.
The first trip is 5 shots.
The next trip is 2 cycles or 10 shots.
The next trip is 3 cycles or 15 shots.
The last trip is 4 cycles or 20 shots.
This gives us a total of 50 attempts.
Your best shooters should make 35-40 on 2 point shots.
Your best shooters should make 30-40 on 3 point shots.