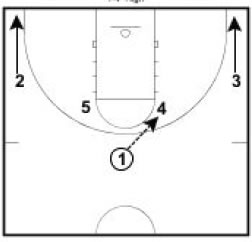 This play is from the Arizona Basketball Newsletter..
This play is designed to be run against a man to man defense. It features three opportunities to get the ball inside.
If you are interested in subscribing to their newsletter, please email me your:
1) Name
2) School or Team
3) Coaching Position
and I will forward your information to the Arizona staff.
High Post entry
4 dribbles at 2 and continues the sequence.
Option 1
4 can dribble handoff with 2
Option 2
If 2 is denied, 4 will continue the handoff with 3 off the screen from 5.
3 has three options:
Attack off the bounce,
Throw back in to 5
Wait for the stagger on the baseline
for 1.
Throw back and in.