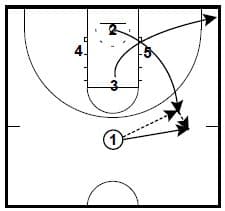 These 2 man to man sets are from Scott Peterman's Euroleague Playbook.
My hope in presenting plays is that you can take them and change them to fit your own needs or to use to brainstorm ways to get your scorers into positions where they can be effective.
Diagrams created with FastDraw
Anadolu Efes Istanbul Diamond DHO Pick and Roll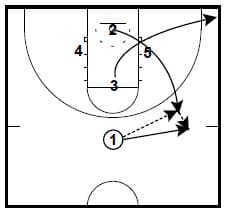 3 cuts to the corner
2 breaks to the 45 degree angle beyond the 3 point arc.
1 passes to 2 and the cuts over for a return pass/hand off.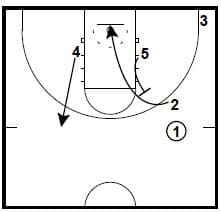 5 sets a back screen for 2.
4 cuts just outside the nba slot to be a reversal.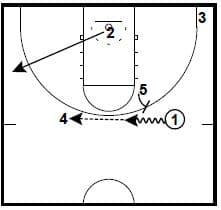 5 sets an on ball screen for 1.
2 cuts to the free throw line extended.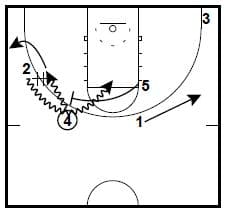 4 runs a dribble hand off with 2.
5 then immediately sets a ball screen for 2.
1 spaces to the opposite wing.
Anadolu Efes Istanbul Horns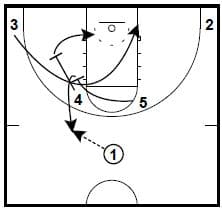 4 and 5 set a staggered screen for 3.
3 curls the screen.
4 rolls to the block and 5 pops to the perimeter.
1 passes to 5.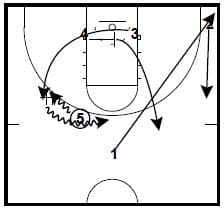 1 cuts to the opposite corner.
2 lifts.
4 screens for 3 and 3 cuts around 5 for a dribble hand off.
4 pops to the slot.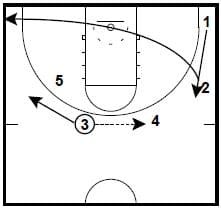 If 3 can't attack the basket, he reverses to 4.
2 clears and 1 lifts.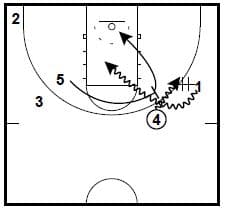 4 and 1 execute a dribble handoff.
5 then sets an on ball screen for 1 and rolls.