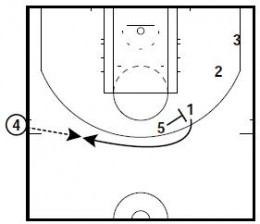 Living in Indianapolis, I have always had a lot of respect for Brad Stevens, dating back to the start of his career when he was an Assistant at Butler.
The first 2 Sideline Out of Bounds Plays taken from the Basketball HoopScoop's Brad Stevens Boston Celtics Playbook (Compiled by John Zall).
You can find out more about the eBook at this link: Brad Stevens' Boston Celtics Playbook
The third SLOB is a very short video at the bottom of the page from Zak Boisvert (www.pickandpop.net)
Diagrams created with FastDraw
Boston Celtics Weakside Stagger SLOB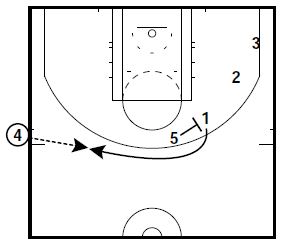 5 sets a screen to free 1.
4 inbounds the ball to 1.
2 sets a down screen for 3 who curls to the rim
5 sets a down screen for 2 who comes off to the perimeter
1 drives middle and can hit 3, 2, 4, or make a finishing move.
Boston Celtics Misdirection SLOB
2 sets a cross back screen for 5
1 passes it over the top to 5
4 sets a cross screen for 3
5 passes to 3 for the shot
Boston Celtics Spread SLOB
You might have to watch the video a couple of times to see the play develop.
It is a simple play, but effective if you have a player who is hard to keep from getting the basketball with a running start.
It is a YouTube video, so you will need to click the play arrow to see it.
If you are interested in adding to your Coaching Toolbox take look at what I believe is our best offer.

CLICK HERE to select from a list of more than 70 eBooks.