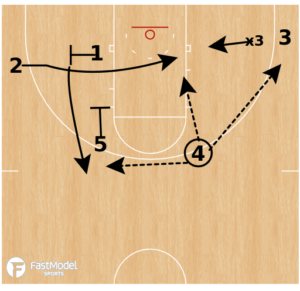 This play was posted in the FastModel Sports Basketball Plays and Drills Library by Coach Irvin Jerry of Trinity International
You can also find out more about FastModel Play Diagramming software by clicking this link: FastDraw
Coach Jerry said:
This is a SLOB I got from the Toronto Raptors under Coach Casey (now the Head Coach of the Detroit Pistons).
We put it in and we were able to get high percentage shots at the rim or an opportunity to get to the free throw line.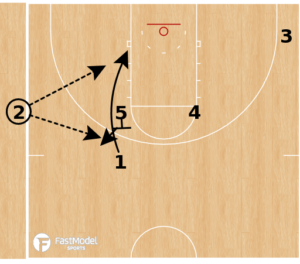 1) 5 sets a back screen for 1 cutting to the basket & opens up to ball.
Note: The 1, 2 & 3 spots are all interchangeable. We want the best finisher taking the ball out & the best shooter in the opposite corner where 3 is in the diagram.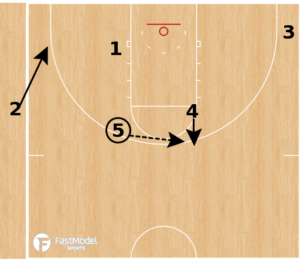 1) After inbounding ball 2 fills same side corner.
2) 4 seals their defender & 5 passes to 4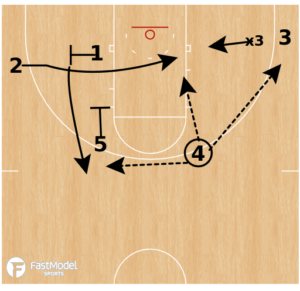 1) 1 sets flex screen for 2 who cuts hard over the top looking for the lay-up or to post up her defender
2) 5 sets down screen for 1
3) 4 can pass to 1 or 2
Note: If x3 helps on 2's cut to rim your shooter will be open for the corner 3.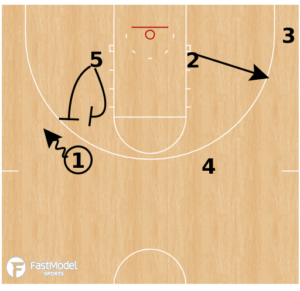 1) If 1 isn't open for the shot or drive 5 moves into position to set a step up screen or wing on ball.
2) 2, 3, & 4 space out on the back side.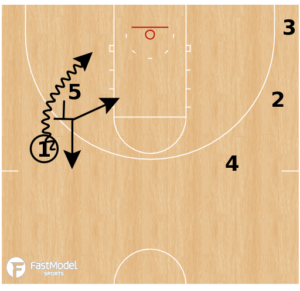 1) 5 can pop or roll after screening