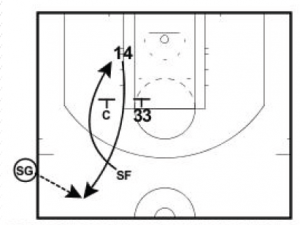 This play is from the Arizona Basketball Newsletter.
It is designed to run against a man to man defense.
If you would like to be added to their monthly basketball coaching newsletter, please email me your name, coaching position, and school and I will forward it on to their Director of Basketball Operations.
Diagrams created with FastDraw
The best shooter between the shooting guard and the small forward takes the ball out of bounds
After Inbounding the ball, the inbounder comes off a screen from #33 and the small forward empties to the corner.
The final action is a screen the screener flare action for a catch, sweep, and drive opportunity.