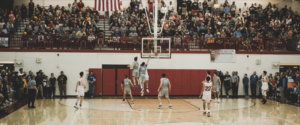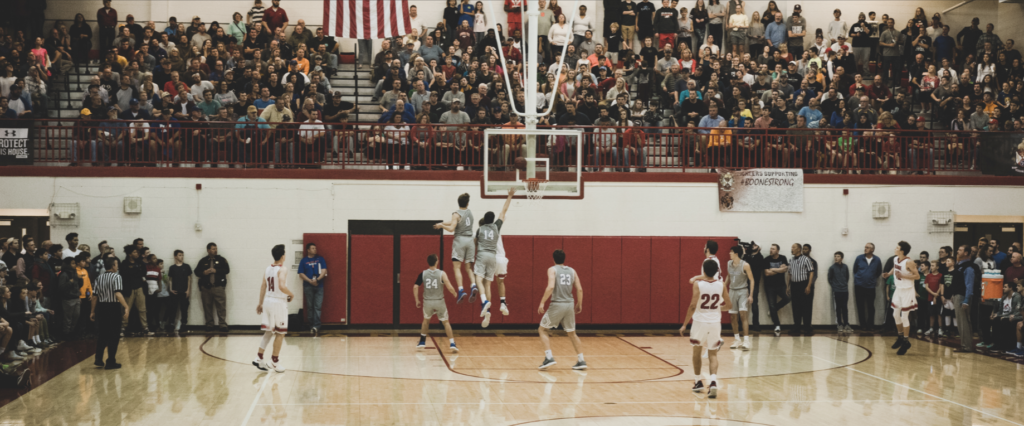 By: Brendan Hall, @BHallHudl
The NCAA's lat­est shake-up is try­ing to bring some pow­er back to high schools when it comes to bas­ket­ball recruit­ing. For col­lege coach­es, there's great val­ue to glean from the prep setting.
The live eval­u­a­tion peri­ods for bas­ket­ball recruit­ing recent­ly under­went anoth­er trans­for­ma­tion, with the NCAA mak­ing major changes to how the sum­mer sched­ule is struc­tured. In an effort to give high schools more valid­i­ty in the recruit­ing process for stu­dent-ath­letes, July has been cut down from three sanc­tioned week­ends of AAU obser­va­tion to just one. The last two week­ends of June are des­ig­nat­ed as ​"scholas­tic" week­ends, where state high school asso­ci­a­tions are allowed to put on their own show­case events.
It's a move based on good inten­tions, but it remains to be seen how this will play out in the long run. There's no man­date for play­ers to par­tic­i­pate in any of these events, and col­lege coach­es will still lean into their AAU con­nec­tions when suit­ing their desired tal­ents. As long as the nation's top tal­ents are con­gre­gat­ing en masse at club tour­na­ments, AAU will still play a vital role in the eval­u­a­tion process. At the end of the day, there's no sub­sti­tute for see­ing your recruit con­sis­tent­ly bat­tle the best of the best.
But high school film of a prospect is still impor­tant. Sure, it's a dif­fer­ent envi­ron­ment from the one played out in field hous­es dur­ing those hot sum­mer months. But if any­thing, see­ing per­for­mance from both high school and AAU paints the most com­plete pic­ture. Here are the most impor­tant traits col­lege coach­es can extract from play­ers dur­ing the cold winters.
Leadership
Assuming the play­er being recruit­ed is the best on their team, coach­es can learn a lot about how the super­star man­ages their team­mates. Great lead­er­ship isn't always about being the loud­est and most demon­stra­tive. It's one thing to see a play­er com­mu­ni­cat­ing vocal­ly, but it's anoth­er thing to see them pass­ing up a good shot of their own for a great shot by a team­mate. That, too, is a form of lead­er­ship — albeit one we see less often — because it shows where they want their team­mates to go.
It can be dif­fi­cult for col­lege coach­es to get a true read on a prospect when watch­ing them play in per­son. Some start press­ing and look­ing out only for them­selves when they see those polo shirts with col­lege logos in the stands. It's a plus if you can see a play­er when they're not look­ing for the atten­tion. As a col­lege coach, you want ath­letes who are going to make win­ning plays — even when they aren't indi­vid­ual plays.
Versatility
Some stars are going to be the tallest guy on their high school team no mat­ter what, which can lead tal­ent­ed high school coach­es to some cre­ative game plans. That coach might need their 6-foot-5 guard to take a 6-foot-6 pow­er for­ward down in the post. So what if that's out of posi­tion? That star may need to learn every posi­tion on the floor just for the team to squeak out wins. 
Knowing how to play mul­ti­ple posi­tions widens one's chances of mak­ing an impact when they get to a col­lege team and become just anoth­er spoke in the wheel. Defensively, coach­es put such a pre­mi­um on being able to make good switch­es — that expe­ri­ence defend­ing both guards and bigs can make a big difference.
Amplified Strengths & Weaknesses
Most like­ly, the recruit is going to have the ball in their hands more dur­ing the high school sea­son than they are dur­ing AAU. There's a slid­ing scale to con­sid­er with the for­mer, of course — what lev­el of com­pe­ti­tion is this star play­ing against? Not all 30 point-per-game aver­ages are alike.
Some play­ers will thrive in any envi­ron­ment, against any com­pe­ti­tion. When the scor­ing comes easy, there's oth­er things you can look for in a prospect. How well does the play­er rebound? How active are they at both ends? How well do they run the floor?
Endurance
Being the supe­ri­or tal­ent on a high school team means there's no hid­ing. The best will like­ly lead their team in min­utes, and those will often be heavy min­utes. Over a long peri­od, com­par­ing a player's first and sec­ond half stats can some­times be reveal­ing. That play­er might be log­ging big min­utes for his col­lege team, too — can they turn to him in the wan­ing moments?
Handling the Crowd
The crowds are almost always big­ger for high school games — usu­al­ly sub­stan­tial­ly so. From Damon Bailey draw­ing 50,000 to the Hoosier Dome, to LeBron James sell­ing out Pauley Pavilion, and viral sen­sa­tion Mac McClung bring­ing in enough fans to tem­porar­i­ly dou­ble the pop­u­la­tion of rur­al Appalachian towns, there's some­thing about the atmos­phere of high school bas­ket­ball that intox­i­cates com­mu­ni­ties time and again.
For the biggest stars, those swelling crowds can pro­vide infec­tious ener­gy — or, if you're wear­ing the wrong col­ors, ner­vous hos­til­i­ty. How does a play­er hold up when the spot­light is shin­ing bright­est? Do they feed off the fans? Do they live for going into an oppos­ing gym and silenc­ing all that wrath? If they can't han­dle the big crowds now, just wait until they step inside suf­fo­cat­ing col­lege venues like The Phog, The Pit or Cameron Indoor.
Defense
Over his high school career a star play­er will like­ly see his fair share of unique defens­es thrown his way, beyond your com­mon man-to-man and zone schemes. They'll have to work through ball screens. They might get dou­ble-teamed, or even triple-teamed in rare instances. They may also see a box-and-one or a tri­an­gle-and-two. How they react to an opponent's scheme that specif­i­cal­ly tar­gets them can say a lot.
**
How does your top play­er per­form under an undi­vid­ed spot­light, with noth­ing to hide? Consider shar­ing high­light reels that show them tak­ing care of both the lit­tle and big things dur­ing the high school sea­son. You'll paint a more com­plete pic­ture of why col­lege coach­es should be in touch.