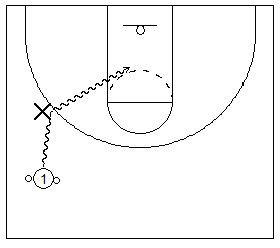 These three basketball skill drill ideas came from a pdf put together by Ganon Baker.  I hope that you can find ways to use them in both your games season practices and out of season workouts.
I. Stationary Dribbling with Tennis Ball (Do each for :30 secs) NO DIAGRAM
Execute the below moves while dribbling a basketball without a tennis ball, then execute each move while dribbling a basketball and tossing a tennis ball
a. Side Jab – Toss tennis ball, execute short side fake with foot, catch tennis ball
b. In/Out – Toss Tennis Ball, make inside out move w/ basketball hand, catch tennis ball with free hand
c. Between legs – Toss Tennis ball with right hand, go between legs with left hand, catch tennis ball with left hand palm down, then repeat
d. Behind the back – repeat the above but go behind the back
II. 2 Ball Drives (Make 10 in 1:10 seconds) (Diagrams below)
a. Drive to chair with 2 balls being dribbled, place 1 ball in the chair, take a floater
b. Now come back to chair, and take a jumper
III. Sue Bird Drill (Make 10 in 1 minute) (Diagrams below)
a. Drive at chair execute a WNBA dribble move
i. b/w leg-cross
ii. b/w leg-behind back
iii. behind back-cross
iv. In out – cross
v. Pull up for a 1-2 step jumper
b. Come back to chair drive for a step through finish (Chair has 2nd ball on it)
The Coaching Toolbox has hundreds of resources for coaching basketball including basketball practice, basketball plays, basketball drills, basketball quotes, basketball workouts, basketball poems, and more!