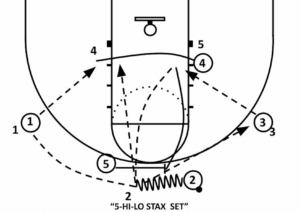 This play was submitted by John Kimble.
Coach Kimble is a retired Basketball Coach who coached High School teams in Illinois and Florida, as well as Central Florida Community College.
He is the author of five published books and over 25 DVD/Videos by Coaches Choice and Healthy Learning.
John has written over 100 articles from several different basketball magazines.
He has been a regular contributor of articles on many topics to The Coaching Toolbox.
Frame 1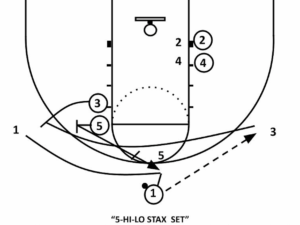 3 pops out of (5-3) 'Pin-Down Screen" & then immediately 'Iverson Cuts' over the top of 5 to the opposite wing. 1 makes 'Wing Pass' to 3 then Flare-Cuts off of the 95-1) 'Flare-Screen' 4 and 2 remained 'stacked up.'
Frame 2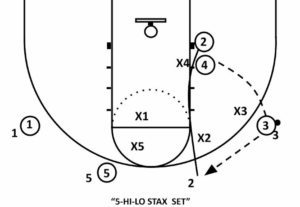 After 3 receives the ball, 2 makes a 'Pipe-Cue' up to the new 'Ballside Slot.' With 1 at the 'Weakside Wing,' horizontally stretching the defense and 5 at the 'Weakside Slot' outside of the arc, stretching the biggest or second biggest defender vertically; 4 is able to isolate his defender on the 'Ballside Block.' If nothing is available inside, 3 reverses the ball to 2, now located outside of the arc.
Frame 3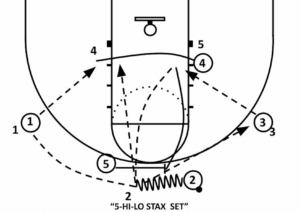 After 2 receives 3's pass, 5 steps over to set a 'Big-on-Small Ball Screem' for 2 to dribble across to the opposite side of the floor. As 2 'dribble-scrapes' off of 5's top shoulder, 4 chases the ball by cutting across the lane. As 2 breaks contact with 5, 5 'Rim-Runs' to the now vacant weakside of the lane. 2 can make Inside Passes to either 4 or, a 'Wing Pass,' to 1 or a 'Throwback Reverse Pass' to 3. All five offensive players have repositioned themselves into "3-Out/2-In Spot Ups" to seamlessly continue the offensive action.