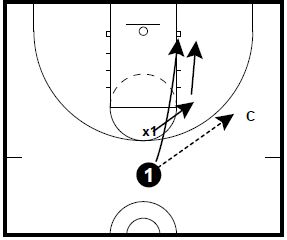 This defensive drill was from an old Mike Neighbors Basketball Coaching Newsletter.
His newsletter goes out once a week and is one of the best out there for basketball coaches.
If you are interested in being added to his list, let me know and I will pass your email address along to him.
One of my goals is to provide resources every day that basketball coaches can use.
But my main goal is to provide an opportunity to stimulate your thinking with the posts that I send out.
I hope that you find the majority of them useful, but even if you don't like or disagree with a post, if it kindles your thinking about ways to improve what you are doing or how you could improve upon what I have presented, then that is even better!
I like this drill, but you could certainly add other actions that you must defend against the teams that you play.
Defensive player (x1) must jump to ball and get in position to not allow cutter to go across his face.
Offensive player clears to the help side of the floor and defender establishes help side position.
Coach skips ball to offensive player. Defensive player must closeout and keep the ball out of the middle.
Ball is skipped back to the coach and the defender must deny the flash cut.
Offensive player returns to help side and coach makes a baseline drive. X1 must get outside the lane and take a charge.
Coach back dribbles to wing and shoots. Defender must box out outside the lane.
You can do the same drill with the offense starting on the wing and the coach at the top slot. The third version of the drill is starting the offense in the baseline corner and the coach on the wing.