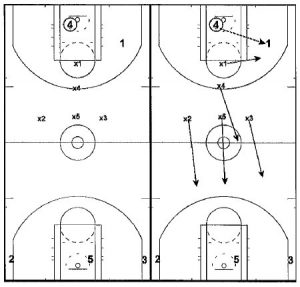 These basketball drills are from Butler Men's Coach Brad Stevens.
They were sent to me by Coach Steve Smiley as a part of some notes from the Florida Basketball Coaches Clinic.
These drills go with notes from our blog post that contains the outline of Coach Steven's presentation: Butler Defense Notes
3 plus 2 on 2 plus 3
Goals for the drill and for transition defense:
Stay in front of the ball
Protect the basket
Pick up the ball
Find good shooters
3 on 3 Free Throw Line to Free Throw Line
1 ball is being moved among the three offensive players. The defense is either:
Guarding the ball
1 pass away (faking at the ballhandler)
2 passes away (lower and ready to give help)
Jump to the Ball Drill
All players line up in the middle of the floor.
Coaches (under the basket and two on the sidelines) move the ball and all thirteen guys jump to the ball on every pass.
Simple and easy, but a great way to build and reinforce good habits.
Jump to the Ball Series
Defense starts with the ball under the basket. The offense is at the top of the key. Three coaches are on the floor (two on the wings and one on the elbow).
Defender throws the ball out to the offensive player and closes out.
Offensive player throws to the coach on the right wing (defender jumps to the ball)
Offensive player runs off a UCLA screen (defender stays on the top side and does not allow a face cut)
Offensive player posts up (defender plays post defense. Butler fronts the post "post up the post player." But, you can play the post however you teach post defense.)
Coach on the wing passes the ball to the coach at the top of the key. (defender jumps to the ball)
Coach at the top passes the ball to the coach on the opposite wing (defender jumps to the ball)
Offensive player follows the ball and looks to post on the ball side block (defender battles him for the position; trying to make him post off the block)