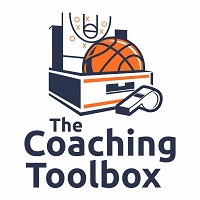 I received this article from Coach Steve Smiley.
These defensive concepts were written by Coach Kevin Eastman.
He was an assistant with Doc Rivers for the Boston Celtics and has now joined him as well on the Clippers' coaching staff.
His area is player development. He is also speaks and writes on leadership.
Coach Eastman is a partner in the Coaching U program.
Here is a link to the website: Coaching U
He is a really good follow on Twitter: @KevinEastman
10 Undervalued Keys to Great Defense
By Kevin Eastman, Los Angeles Clippers Assistant Coach
Most of us agree that defense is critical to team success and championship play. Here are some things to think about as you go about your defensive work. You can apply these no matter what defense you play.
FIRST 3 STEPS: The key to all great defenses is getting back in transition and setting your defense so the opponent has to play against your "set defense" all night. The first 3 steps must be an all-out sprint.
LOAD TO THE BALL: It's vitally important to make sure that the great perimeter players in today's game don't see any seams in your defense in transition. Guards today are so good that they will take advantage of any little gap they see while you're getting back. Pull your defense over to take away these seams, but also be aware of your man.
LOW MAN WINS: Simply put, the lower man between the offensive player and the defensive player usually wins that possession. The lower man has the advantage of the leverage game, the reaction game, and the relative quickness game. Get down and be in a stance, ready to move and adjust.
GET YOUR ANTENNAE UP: Players must be alert to what's going on around them. Alertness is a trait all the great defensive teams share. This demands readiness in your eyes, your feet, your hands, and your mind.
SNIFFING THINGS OUT: Knowing what's likely to happen next is an ingredient to all great defensive teams and players. To be able to "sniff things out," you have to study the game and listen intently during scouting reports.
PLUGGING HOLES: Offenses are very good as well, so they will create problems and find holes in the defense. The great defensive teams are always ready to plug that hole and players have a trust that someone will have their back.
TALK INTIMIDATES: Teams that talk always seem to play with more energy and intensity. Talking lets the opponent know that you see everything they're doing and that you know their stuff every bit as much as they do. Talking teams also always seem to be the more aggressive teams.
FIRST TO THE FLOOR: There will be a number of possessions in a game that come down to "who wants it more." Being first to the floor is very important, as is being first to the long rebound. We call this the 50-50 game; we want to win the 50-50 game every night.FINISH YOUR
DEFENSE: How many times have we had a great possession and the opponent gets an offensive rebound? It's a killer. Finish all slides, finish getting over screens, and finish every possession with a block out and rebound. We never want to start something that we won't finish.
*TRUST: I've saved this for last because it's the most important component of all great defenseive teams. It's so important for players to know they can be intelligently aggressive. Players who know they have someone behind them to cover their backs can defend with intelligent abandon (NOT careless adandon). Turst actually makes your defense quicker and more alert because there's no hesitation; a hesitant athlete is a non-athlete.