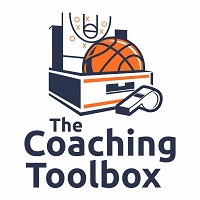 A couple of articles By Basketball Trainer Alan Stein, Stronger Team Blog (re-posted with permission), for you to think about applying for your players in your program.
Do You Love the Game?
Or do you love the idea of being a basketball player?
That is a very powerful distinction.
There is a big difference between truly loving the game and loving what the game can do for you (fame, money, girls, etc.).
If you truly love the game you want to be in the gym, by yourself, all of the time.
You want to work on your handle and make hundreds of shots every day.
You want to push yourself beyond your comfort zone.
You want to do all of the extra work (strength & conditioning, watch film, rest & recovery techniques, etc.) to help you become the best player you can be.
If you truly love the game you would rather play basketball than go to the movies, hang out at the mall, or play Xbox.
Whether you're alone on an outside court at the park or playing 5 on 5, basketball brings you more joy than anything else in your life.
Do you really love the game?
Do You Spend or Invest Your Time?
At nearly every one of my Cutting Edge Clinics, I ask the players a (somewhat tricky) question:
"There is a very specific amount of money I can withdraw from my bank account anytime I want. Can you guess how much that is?"
The answers usually vary from $50 to $1,000… which always makes me chuckle. Almost inevitably though, someone blurts out, "As much as you want!"
To which I smile and reply, "As much as I want? How about $1,000,000? Do any of you think I can go to Bank of America right now and withdraw $1,000,000?"
They all laugh and say, "No way!"
Which of course, they are correct. I most certainly do not have $1,000,000 in my checking or savings account. Far from it.
So what is the answer? How much can I withdraw?
Exactly what I put in… not a penny more.
I can only take out what I put in.
NOTE: Thankfully, I haven't had a smart ass ruin my analogy by bringing up the concept of interest!
My somewhat elementary banking analogy holds true in basketball as well.
You only get out… what you put in.
Do you want to jump higher when the season starts? To be a better shooter? Or better ball handler?
Now is the time you need to be making 'deposits.' A 45 minutes shooting workout is like making a $100 deposit. A bodyweight strength workout is like dropping in another $50. And trust me, it will add up.
A good friend of mine recently reminded me of a similar mindset… and a very powerful concept:

You either spend time or you invest time.
Great players understand this.
For the rest of this month, will you spend time laying at the pool, playing video games or hanging out at the mall?
Or will you invest time working on your game, hitting the weight room and watching film?
If you invest now, you will be able to make a hefty withdrawal this winter.
Train hard. Fuel smart. Get better.
The Stronger Team Huddle is a revolutionary basketball-specific strength & conditioning learning experience. It is a must for any coach looking to take their program to the next level.
Our next Huddle will be held at the Nike World Headquarters in Portland, OR the weekend of October 4-6, 2013. Participants will get a formal tour of the Nike campus, access to the heralded Nike Employee Store and a copy of the Stronger Team Training System.
The deadline for early bird registration is September 20, 2013 (limited spots available). For full event details and to register, please visit http://www.strongerteam.com/huddle/
Alan Stein
Hardwood Hustle Blog
http://www.About.me/AlanStein