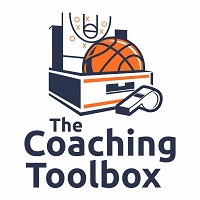 This play is run against a man to man defense and is from Creighton Burns' newsletters.
Click this link to see a listing of all of the animated plays and diagrammed plays posted on this site:
Animated Basketball Plays
If you are interested in being added to Creighton's newsletter, let me know and I will forward your information to him.
#1 enters the ball to #2 and screens for #5.
#5 uses the screen and sprints to set a ball screen for #2.
#3 moves in to get a better position to set a screen.
#2 waits for the screener( #5) to get set before driving the ball.
When #5 is set, #2 will fake baseline and drive into the middle of the lane.
As #2 starts to drive off the screen, #3 will move across the lane to form a double screen with #4
#1 moves out to the wing position.
#2 will look first to score, to #5 cutting to the rim off the double screen, and then to #1 on the back side wing.
If #2 has passed to #1, #1 will look to #5, who should be posting hard.
If #1 passes to #5, #1 will run a "Laker cut" to the rim and then to the back side wing, if he does not receive the ball.
#2 and #3 would rotate and fill the vacated perimeter positions.
If #1 can not get the ball into #5, he will dribble out to the point.
#2 would fill the vacated wing position left by #1 and #3 would fill the opposite wing.
#4 and #5 would flash up to the high side posts.
The spots have been filled and the offense is reloaded.