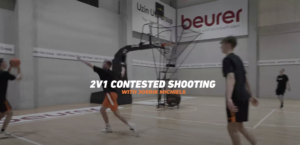 This team skill development drill is provided by Dr. Dish Basketball.
The drill is by Coach Joerik Michiels.
Coach Joerik founded the Elite Academy program in 2017 to provide a year-round program for youth players in Belgium. This unique formula has led to international acclaim, with Joerik regarded as a globally renowned skill trainer delivering international camps and coaching clinics all over the world.
Within the Academy, Joerik leads on the player development strategy and spends time working with all age groups on individual skills. Joerik has been featured on several leading podcasts sharing the unique methodology used at Elite Academy
You can and should modify any of the drills to make them fit your needs or to add variety to your skill development work.
Please make sure your sound is on to see the video.
This drill is hosted on YouTube, so you will need to be on a server that allows you to access YouTube to see the drill.
Click the play arrow to see the drill.