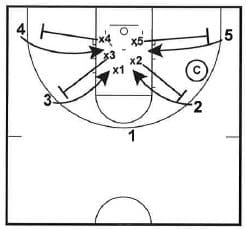 This handout is posted on Coach Steve Smiley's site www.snsbasketball.com
Michigan State Basketball Rebounding Concepts & Philosophy
Mike Garland
1. In the Michigan State Basketball program, rebounding, without question is a top priority.  From the seasons' beginning until its end, rebounding is a big point of emphasis each day throughout the entire duration of our practice sessions.  Everything we do either begins or ends with the rebound or attempt to rebound the chance (made shot).
2.  We coach rebounding on every shot taken in practice. One of our staff members and sometimes two assigned to coach rebounding only during practice.  Which phase of rebounding he will coach is usually determined before practice and will change in accordance to what we are working on during a particular drill or scrimmage situation offensively or defensively.
3.  Important point- we grade our players rebounding performance on effort not the number of rebounds they get in a game session.
Offensive rebounding-we chart the number of times a player makes an all-out effort to get to the offensive boards (attempts) against the number of chances he actually had to go to the boards.  The percentage basis calculated by dividing the number of

chances

to go to boards into the number of times a player attempted to get to the boards.
We also do the same collectively as a team the same way.
Ours is to be 90% or above in our effort.
We want to get back 50% or better of our missed shots
Defensive rebounding- we chart defensive rebounds in a similar manner except we calculate the number of chances to cutout (block out) by the number of time a player individually or our team collectively actually did cut out his offensive player when show was taken.
Our goal is 90 %
We don't ever penalize a player for not making an unnecessary cut out (we actually discourage the unnecessary cut out.)
Offensive Rebounding
1. At Michigan State we believe the missed shot is our best offensive play.
2. We tell our players to always assume the miss when the shot is taken either offensively or defensively.
We tell our players to pursue the ball
Don't go to a back-avoid contact
Keep hands above the shoulders (don't get arms pinned down)
IF you can't get the rebound try to tip it to someone else or keep the ball alive- get a hand on the ball or a finger-whatever-keep the ball alive- we do a better job of this that nay team in the country (War Drill)
The remainder of the notes are from John Zall's Michigan State Defensive Playbook. It is combined with his NBA Playoffs Playbook as this week's eBook Bundle. You can find out more here:
101 NBA Playoff Sets with Michigan State Defensive Playbook
Principles:
"Hit, Find and Fetch" – this is Michigan State's rebounding mantra.
Tom Izzo preaches stepping towards the player are boxing out and making contact to force them away from the rim.
Instead of holding your seal and letting the ball hit the floor; Michigan State players are taught to go find th
basketball and rebound it out of the air.
• Use 2 hands to go after the basketball
• Rebound ball above head = good rebound
• Low man wins when making initial contact
• Sends 4 t0 the offensive glass (Point Guard gets back). This forces the other team to adjust.
• Must be able to get back behind post player on shot attempt
Teaching Points
7O% of rebounds go in opposite direction from where they are shot
Important to contain basketball. Multiple help rotations lead to players being out of position to rebound
Weight lifting is a big part of rebounding.
Michigan State War Rebounding Drill
Diagrams created with FastDraw
Coach will shoot the ball to initiate the rebounding hit, find, and fetch.