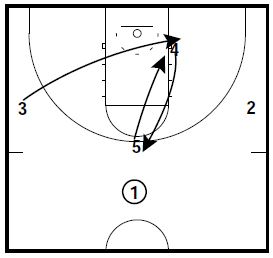 Both of these plays to attack a 3-2 zone defense came from University of Arkansas (Formerly Washington Huskies) Womens' Head Coach Mike Neighbors weekly basketball coaching email newsletter.
His newsletter was one, of if not the first basketball coaching newsletters around.
He started it as a high school coach in the mid 90s and continued it as he moved into college coaching as an assistant, and now as he is completing his first year as a Division I Head Coach.
If you are interested in being added to his list, let me know and I will forward your email address on to Coach Neighbors.
Please use the social media share buttons at the top of the post if you feel it is worth sharing!
Diagrams created with FastDraw

Punch Special
5 and 4 exchange while 3 sprints to stack with 5 on the block
4 sets screen on top o f the zone
2 screens top wing of the zone
5 screens bottom of the zone then sits on next defender
1 uses screen and looks for 3 or 5
1 can pass t o the 3 or keep i t and find the 4 rolling or the 5 replacing the 4
We go straight into our punch if we do not get anything off initial action
Punch Flat
2 and 3 work no mans land so zone has hard time deciding who guards them
5 sets flat screen on the top of the 3 – 2 then pops t o 3 point line
1 uses the screen forcing the zone to collapse
1 reads options and finds open teammates