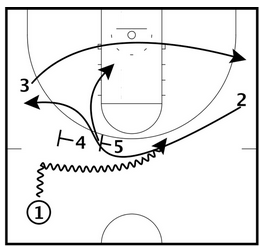 These three basketball plays from the Florida Gulf Coast Men's team from the 2103 NCAA tournament.
Click on the link below to check out out several other plays and drills at the the
Fast Model Basketball Coaching Library Site.
These plays were posted by Kyle Gilreath.
This week's 7 eBook bundle "The 2015-16 NCAA Basketball Collection" along with the plays of the teams in the other three regions, the Wisconsin/Maryland scouting report, the Michigan State Defense eBook, and the Stephen F. Austin Playbook.
You can find out more about them at this link: NCAA Basketball Collection
Thru Double
Florida Gulf Coast ran this tweaked double pick & roll action versus San Diego State in the Round of 32 NCAA Tournament.
14 Hi
This is fantastic post-up action to get an easy lay-up at the rim that Florida Gulf Coast ran during their trip to the Bahamas early in the year.
Motion Clear
Florida Gulf Coast ran this set to get some easy looks at the rim early in the year in the Bahamas.