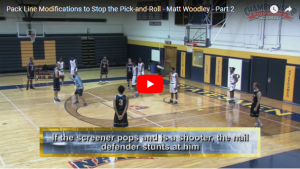 This post contains videos of two defensive drills from Matt Woodley.
At the time when the video was made, Matt was the Head Coach of the Iowa Energy of the NBA D League. (Now the G League).
He is a former assistant for Tony Bennett at Washington State.
For the 2017-18 season, he is on the Men's Staff at Pitt.
Make sure your sound is on as you watch.
All videos are You Tube videos.
Make sure that you are on a server that allows You Tube access.
If you are interested in finding out more about the DVD that these video samples came from, click here:
Pack Line Modifications to Stop the Pick and Roll
Icing a Side Pick and Roll
Ice Breakdown Drill
If you are interested in finding out more about the DVD that these video samples came from, click here: