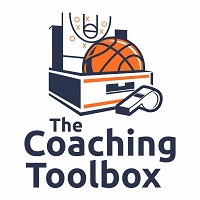 This article was written and submitted by retired High School Coach Dave Millhollin.
I have included more information about his coaching career at the end of the article.
Caoch Millhollin has contributed several insightful articles to the site. You can find links to more of them at the bottom of this post under the "Related Posts" tab.
If you would like to contact Coach Millhollin, email me and I will put you in touch with him.
The importance of shot selection, defensive strategies, and rebounding
Why are basketball games won or lost?  The answer to this question can be incredibly simple or quite complicated.  Coaches spend unbelievable amounts of time and energy on this topic, most of the time, they realize the obvious but fail to understand the simple.
This article is intended to delve into the simple answers of the question.
Basketball has been at the center of my life for as long as I can remember.  Growing up I played on the playground and played organized ball of one kind or another from the 3rd grade through college.  My dad was a high school and Jr high coach.  I have coached girls and boys from the second grade through high school throughout my adult life and I was a high school boys varsity coach for 27 years.  Through all of this I don't think I fully understood the essence of Winning Basketball until about half way through my high school coaching career (around age 40).
All my experience and observation of the game of basketball has led me to what I believe to be the essential elements to Winning Basketball. It can be summed up like this:
"Teams that take better shots and get more rebounds have a tendency to win more games than teams that don't."
Most of us believe teams who take good shots are more likely to shoot a high % and because of that; improve their chances of winning.  Most of us also believe that teams who control the boards have a better chance of winning than teams who don't. I think most of us are correct.
The effect of good shots on rebounding
Missed good shots result in more offensive rebounding opportunities for the shooting team.
If you want to get offensive rebounds; take good shots.
Missed good shots also result in fewer fast break opportunities form the opposition.
If you want to stop your opponents' fast breaks; take good shots.
CRITICAL CONCEPT; Teach your team to take shots the other team can't fast break on.
The effect of defense on rebounding
There are three questions every coach should ask himself regarding defense;
Is our defense giving up good shots?
Is our defense putting our opponents on the free throw line?
Is our defense giving up offensive boards to our opponents?
For offensive transition oriented offensive teams there is a 4th question;
Is our defense giving us fast break opportunities?
I asked Bo Ryan one summer about this topic and he said his defensive philosophy was to try to get his opponents to take bad two point shot attempts, then get the rebound.  His teams did it through defensive containment.
Here are some helpful defensive ideas that can produce opponent bad shots:
Don't let them run their offense;

Take away their entry passes and entry drives
Don't let them get the ball where they want it

Don't let the high post or low post catch the ball
Play defense with hands up
Close out "head up" or PUSHING ELBOW
Collapse with help (early) on drives and recover to kick outs early
Deny the ball to their scorers in the spots they score from
Teach how to defend the "lanes"; passing lanes, driving lanes and cutting lanes
Teach "never let your man cross your face or back" for individual off ball defense
Shade shooting hand on close outs
Do not over deny off the ball; do not encourage back door cuts.
Double the ball early on isolation plays
Switch all "away screens"
Apply "smart" pressure that does not foul and does not give drives or backdoors
Finish all defensive drills with block out or "face out" (for 3s) execution
Defensive communication
Some of the things on the above list are not what most coaches are used to.  My teams quite were served very well from; not allowing the ball in to the low or high post.  Think about it; teams score from the low post either from post moves, free throws on drawing foul down there, offensive rebounds from missed low post shots or from kick out or kick > swing passes out of the low post.  It is amazing to me how many teams at every level allow the ball to be caught at the block!
As for the high post; when the ball goes there to an impact forward or post, that player normally scores, unless he is helped on.  When he is helped on he kicks it to a player who is open for a shot or drive.  We believe that getting the ball to the high or low post helps teams get good shots; therefore, keeping teams from getting the ball there can significantly reduce their chances of getting good shots.
The other two things on the above list most coaches are not used to, but served the teams we coached significantly well are; playing defense with hands up and closing out from the baseline side (pushing elbow), not "sideline, baseline".  We wanted the drive to go to the elbow one dribble with immediate help, then recover quickly to the kick out pass.  This reduced baseline fouls and fouls on our bigs. This greatly reduced our team fouls and opponent free throw attempts, just as important, it lead to poor % two point attempts from our opponents.
This defensive approach greatly increased our defensive rebounding and almost eliminated opponent offensive rebounding opportunities.  Remember; offensive rebounding increases teams' ability to score on put-backs, open kick out shots and fouls on the put-back.
Rebounding
Shot selection and defense are the two biggest keys to rebounding.  I believe that if coaches would spend as much time teaching and working on these keys as they do on heart, toughness and effort; their teams would get more rebounds.  I am not suggesting to stop teaching heart, toughness and effort.  What I am saying is that as far as priorities are concerned when it comes to rebounding they should be, in my opinion;
Shot selection and Defense
Rebounding concepts and techniques
Heart, toughness and effort
In that order
Our teams were pretty tough and played hard with heart but, funny as it might sound; my teams routinely outrebounded teams that were tougher than us and beat teams that played harder than we did.
Execution by playing smart with proper technique brings about winning.
© Dave Millhollin 2020
About the author of this article, Coach Dave Millhollin In fourteen years at Ponderosa High School, Coach Dave's teams won 260 games (.665). From 2000 through 2009 Ponderosa won 207 games over a ten year stretch which included four SVC Conference Championships and two CIF Section final four appearances. Over his 27 year Boys Varsity Coaching career, Coach Dave posted 391 wins, produced 20 college basketball players and was named SVC Coach of the Year four times. At Ponderosa, Coach Dave's teams were #1 in California in team defense five times and in 2008 Ponderosa was the top defensive team in the Nation among shot clock states. Over Coach Millhollin's last five seasons (2005-6 through 2009-2010; 136 games) Ponderosa averaged a composite 50% total field goal percentage, 58% two point field goal percentage and 32% three point field goal percentage. Since retiring from High School coaching in 2010, Coach Dave has been actively involved in coaching Jr High level School and AAU teams as well as and running instructional basketball clinics from the primary grades through the College level.