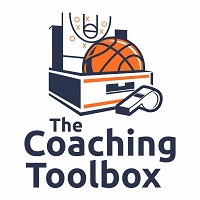 I received this post from Randy Lambert, Head Men's Basketball Coach at Division III Maryville College in Maryville, TN.  Coach Lambert has accumulated 701 victories in his college coaching career!
One of the more frustrating things I deal with is trying to make the most of our pre-season.  Because of NCAA rules, we are not allowed to be on the court with our players until October 15th.  All of our workouts must be voluntary and monitored by our upperclassmen.
Regardless of the level, I think these basic ideas will apply to any basketball program.  We emphasize to our players the importance of having a personal plan to follow and holding yourself accountable to the plan.
Editor's note from Brian:  Regardless of what your governing body's rules allow you to do prior to the start of practice, some good thoughts to share with your players any time of year.
Making the Most of My Off-Season
The Intangibles

• Be a Leader- By example or vocally, project enthusiasm by my constant "reminders" of the price we pay for success.
• Be a good teammate- We are a family and I must do what I can to bring us together.
• Be coachable- Buy-in with my teammates to the process.
• Demonstrate toughness- In everything I do, eliminate the ABC's: arguing, blaming and complaining.
• Minimize the distractions- Get my life in order off the court (academically, socially, and spiritually) to insure the ultimate productivity on the court.
The "Givens"
• Be in the best possible condition- We play fast and I have to be in shape and able to run the floor.
• Bring physicality to my position- I must be as strong as I can be to be physical and manage the demands of a season.
• Know my role- With the help of my coaches, carve out my role for this team.
• Maintain composure- Be poised and in control of my emotions through every situation.
• Be fundamental and a student of the game- The foundation of my skills will determine my effectiveness as a player.
The Dream

• Run the floor- I will try to be one of the first ones back on every offensive and defensive possession.
• Take good shots- Be a finisher and value efficiency by sharing the ball and hitting the open man.
• Defend and motivate your team to get stops- Coach yourself to stay in a stance and rotate to provide good help.
• Rebound- Be the best rebounder at your position and initiate contact on your blockouts.
• Play team basketball and incorporate sound principles on both ends of the floor