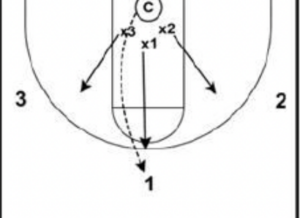 This video below the diagrams is from a Creighton basketball practice.
The video is a YouTube video so make sure that you are on a server that allows YouTube access.
As with every idea I post, pick the one that fits your defensive rules and needs the best, or use some of the ideas to add to what you already do.
This week's eBook bundle is the Encyclopedia of the Packline Defense assembled by Chris Filios paired with the "Attack the Pack Playbook," which was also compiled by Chris. Click here to see the Packline Attack and Defense Bundle
Ranger Defensive Drill
As with everything I post, my purpose is to stimulate you to think in detail about the way that would be best for you to play the given situations, not to tell you how I think you should coach it.
If you are interested in purchasing this or any other Championship DVD, you can use this link:
All Access Creighton Basketball Practice
The video is 3 minutes and 48 seconds long.
This week's eBook bundle is the Encyclopedia of the Packline Defense assembled by Chris Filios paired with the "Attack the Pack Playbook," which was also compiled by Chris. Click here to see the Packline Attack and Defense Bundle