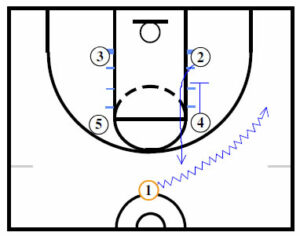 This play is run against man to man defense.
I got it from a Creighton Burns' newsletter.
If you are interested in receiving his newsletter, contact us and I will put you in touch with Coach Burns.
By: Tubby Smith
This is a great man to man set. I would just run it on the right side of the floor to begin with and then teach it to both sides of the floor.
You need to run this set for your best shooter. It will work just about every time.
1 dribbles to the right wing when he gets free throw line extended 4 will down screen for 2 to come up top.
1 passes to 2 and sprints to the left corner, when the ball touches 2's hands 5 down screens for 3 to come up top. Timing is important
2 passes to 3 and receives a back screen from 4, here 3 throws a lob pass to 2 for a layup. The next frame is important.
If X2 and X4 stop the lob to 2 (they should) 4 will Rescreen for 2 to come back up top to get a pass from 3 for a short jump shot.