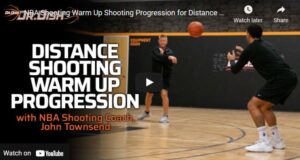 This skill development drill is provided by Dr. Dish Basketball.
The drill is by NBA Shooting Coach John Townsend.
In this warm up shooting progression, NBA Shooting Coach John Townsend demonstrates a great way to specifically warm up for distance shooting.
In this progression, John focuses on 3 drills:
1. High Start
2. High Quick
3. High Quick / Regular Alternate
As John emphasizes, a big part of this warm up is your hand placement and establishing a solid base to ultimately incorporate into game situations.
Whether you're working with a Dr. Dish or not, this is a great progression to try out before starting your shooting workout.
Please make sure your sound is on to see the video.
This drill is hosted on YouTube, so you will need to be on a server that allows you to access YouTube to see the drill.
Click the play arrow so see the drill.