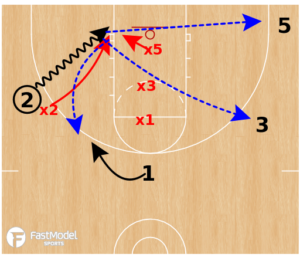 This small sided game came from the following pages of the FastModel Sports Plays and Drills Library:
Drive React SSG with DHO – FastModel Sports.
You can also find out more about FastModel Play Diagramming software by clicking this link: FastDraw
The drill was contributed by Zachary Weir, South Grand Prairie HS in TX. You can follow him on Twitter @WEIRbasketball.
Here is what Coach Weir said about the drill:
"This is a competitive small sided game that works on both offensive and defensive skills all in one. This ultra competitive ssg that starts with a 1 v 1 competition , easily progresses to 5 v 5. The possibilities for progressions are endless."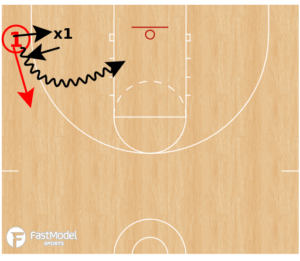 The 1 and the x1 will toss the ball back and forth as they move from the corner towards the free throw line extended area. 1 is the offensive player and will drive the ball when they choose and try to score. x1 will defend.
Rule: the offensive player must throw it to the defense at least 1 time before driving.
Areas of the floor to use:
1. Corner to free throw line extended.
2. Slot to Slot
3. Half Court stripe to the top of the key as to simulate transition.
SSG will progress to 5 v 5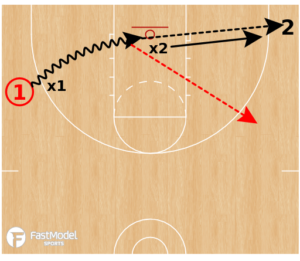 Same beginning as 1 v 1.
The 1 will drive the ball and look to score or pass to the 2 player.
x2 will try to deflect the pass and then take/closeout on the first pass.
Live 2 v 2.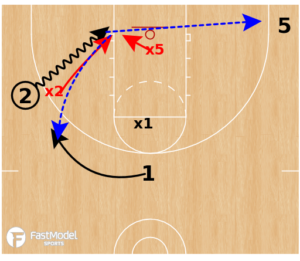 Same start as 1 v 1.
In this frame the 2 will drive the ball to score or pass to the 1 or the 5 player.
x5 will try to deflect the pass and then take/closeout on the first pass.
x1 and x2 will communicate and scramble to match up and it is 3 v 3 live.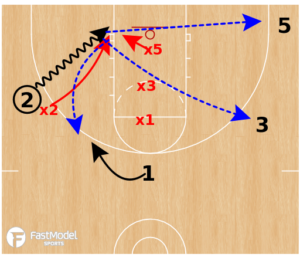 Same setup as the pervious frame.
Red will scramble to match up and black will make quick decisions to get the best shot.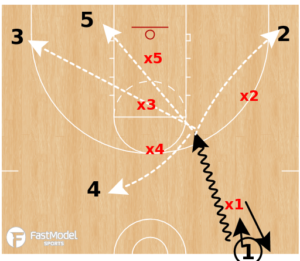 5 v 5 will start with the with the 1 player at half court. x1 will back pedal or move backwards and simulating a toss back and forth with the 1 player. The 1 will attack off the toss back that he chooses.
Setup in your offensive alignment. In this frame we are using Dribble Drive spots.
Progression:
Have all players play from all positions. As you can in season or closer to the season tailor it to your system that you run.
Mix up the defensive coverage.