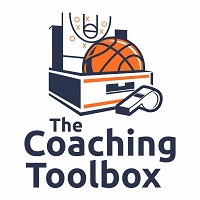 Some thoughts to consider as you work to update your drills book over the summer in preparing for next year.
Submitted  by Coach John Kimble
CoachJohnKimble.com
Retired high school and college coach
Follow him on Twitter @CoachJohnKimble
This article was originally written for Winning Hoops
There are countless fundamentals, skills, techniques, and concepts that must be taught to each and every individual basketball player as well as to the overall team. There are offensive alignments/sets, offensive plays/entries, offensive continuities, as well as the countless fundamentals and techniques that strictly apply to the offensive phase of the game. Conversely is the defensive portion of the game, which includes numerous individual and team-concept skills and techniques that need to be taught to the team.
A team is only as strong as its weakest link. An individual player is only as strong as his/her basic fundamentals of the basketball skills necessary for success. Therefore, there are hundreds of techniques that must be taught to each and every player. Unfortunately, there is a time constraint that can be utilized for those required skills. A seemingly unlimited amount of material must be taught to players in a limited period of time. This can be a difficult task for a coaching staff to perform.
For a coach to be successful, he/she must be an excellent teacher. In order for a coach to convey this excellence as a teacher, he/she must have a fundamentally sound concept of how to convey what needs to be taught to his/her players and motivate those players in limited periods of time. Our coaching-teaching philosophy (of any basketball skill, of an entire offense, or the complete defense) is to teach the proper techniques to our players by showing them the why and how that techniques are to be performed. Today's players expect to know why they are to perform tasks, not just that they are to do them. Coaches must then show players how to perform those skills that are necessary to be successful.
Our coaching-teaching philosophy is a belief that in order for a basketball program to be successful, coaches must demand that every player be fundamentally sound in how to perform all techniques in each of the many phases of the game. Then the coaching staff must be able to motivate every player in performing those fundamentals at their highest level of intensity. Attention to detail by the coaching staff is crucial, as well as the positive and constructive criticism that must come with the teaching and the drill work. "Game-realistic" scenarios must be implemented to simulate "game-like" conditions and many drills must be created to practice the many skills and techniques.
The old cliché, "practice makes perfect" does not apply in our program. What philosophy that is used in our practices is this: "Perfect practice makes perfect!" That must come through "game-realistic" drills and conditions under a very watchful and scrutinizing coaching staff. Success must come in small consistent increments so that players' confidence in themselves, in their teammates, and in the "system" will slowly and gradually develop.
We use the "whole-part-whole" method of teaching basketball skills with a great emphasis on the how and the why on every technique, every skill, whether they are on offense, defense, transition, or whatever concept is being taught to the team. Players must have confidence that the methods and the techniques that they are being taught are the most fundamentally sound. Players must be convinced that the methods and techniques are the best possible ways for them to be successful. Players must believe that the manner in which the skills are being taught can be successfully performed, regardless of how difficult those skills appear to be.
In basketball, "there are many ways to win the game". There are countless styles of play, and many different methods can be utilized by coaches. For the team to have confidence and trust in the coaching staff, the coaching staff must be "students of the game". After carefully choosing the specific techniques, methods and styles of "how to play the game" the coaching staff must then convey that strong belief and confidence to each and every team member. Then and only then will players be sold on the philosophy of the staff.
Then the players will "give their heart and soul" to the program and play with the needed intensity in order to be successful. Players must believe in what they are doing ( whether it is a type of technique, an offense, a defense, or whatever they are performing), if they are to perform at a high degree of intensity.
When we introduce something new to the team , (whether it is a new technique, a new offense, a new defense, or whatever we are bringing to the players) we introduce the skill as a "whole entity". Then we start breaking the offense down to the basics that are needed for the offense to be successful. We show the specific techniques that are required for the offense to be able to operate efficiently and successfully.
We then work on those particular skills in "game-realistic drills" only after the players have graduated to that level of performance. The first drills that we utilize to teach and to practice those skills are more of a "teaching drill" than an intense and competitive drill. We actually break down the drills and have levels of skill and learning competencies that all players must accomplish before they get to the "high-level skill performance drills".
In defining the "whole" and the "part" in the phrase "whole-part-whole", both can easily vary from skill or technique to skill/technique being taught. For example, the "whole" is the entire play that we are introducing-all five players' responsibilities for the play to be completed. The "parts" are the specific techniques performed by each of the five players, with every player having different skills and techniques that must be performed in order for the play to be successful.
A "part" could be just one player working on learning, understanding, and performing one simple task that takes place in just one specific situation. The "part" could be one player performing several tasks in a wider range scenario, or the "part" could be five players performing several tasks simultaneously.
For instance, if we are initiating a new zone offense continuity to the team we first show the team the entire offensive continuity. We would have five players demonstrate the offense by literally "walking them through" the offense, while the remaining players observe. Then we would rotate players into the offense until all have gone through the offense. We then would have two groups of players go through the offense at higher and higher degrees of speed, until "game-speed" is reached. No defense is used and no shots would be taken, so that the continuity offense could be run for longer periods of time. We do not want any distractions during this learning phase.
Once the basic movement patterns and rules are learned by all team members, we would work on all players practicing their shots from the spots where they would get their shots within the framework of the new zone offense. We would demonstrate where and how the shooters would receive passes to get their shots. We would have the players practice those shots and have other players practice the passes they would make from the same locations on the court that they would in a game. Once the players learn their specific passing and shot locations and they start feeling comfortable, we step up the level of intensity of the breakdown drills. Goals and performance-standards are established, with these goals and standards increasing in difficulty as the players progress in their skill development and knowledge of the concept being introduced.
As a coach, it is best to not assume every player has mastered all of the fundamental skills of basketball. The more elementary he/she is in the initial breakdown drills before advancing to more sophisticated breakdown drills, the more solid that his/her players will most likely be in their overall understanding, their performance level, and their overall success of the particular skill being taught and performed.
The more experience the players obtain, the more demanding the coaching staff is able to be with them. No drill should be "too easy" or "too difficult". Coaching staffs should remember to start at the very basic fundamentals and lay a strong foundation. The "whole" could and should gradually and ultimately be the performance of all five players in a game. But that will take time, planning, teaching, practicing, drilling, effort, and patience (by both the coaches and the players).
Here are some "points of emphasis that a coaching staff should keep in mind while using the "whole-part-whole" teaching method in their basketball practices.
Remember that the gymnasium is your "classroom" and that for learning to take place in any classroom, there must be organization and an atmosphere conducive for learning. Encourage questions from your players at the appropriate times.
Don't assume your players possess the fundamental skills that are necessary for them to be successful.
Don't assume your players possess a knowledge of the game that they may think they have.
Have an organized practice plan—it is a coach's "lesson plan". "Plan your work and work your Plan". Don't vary too much from your plan, but don't be bound by it completely.
Make sure the time limits of all drills are short enough that players do not get bored. A coach can plan to run a drill for four or five minutes three times in a practice versus a fifteen minute drill at one setting, with players losing interest.
Make sure that players are not standing at the end of lines during drills. Create your drills where everyone is involved, not just three or four players.
Make sure that all breakdown drills have gradual levels of difficulty as the players are improving.
Set realistic performance goals for your players in various practice drills.
Keep statistics on the performances of your players. Reward the winners in small ways.
Demand from your players and assistant coaches a quick transition from one drill to the next.
Involve your assistant coaches in the practice planning and the actual teaching on the court.
Make sure that the more sophisticated drills are "game realistic". That means that these higher level drills always must be performed at "game speed" and have some forms of pressure and competition. This means that they have "winners and losers"-with awards and (minimal) penalties.
If a coach wants his players to be enthusiastic and energetic, he/she must not only be enthusiastic and energetic, but he/she must be the MOST enthusiastic and energetic person in the gym.
Don't accept anything but excellence from yourself, your staff, or your players.
Have a keen eye for detail. Look for it and expect it from your players on every technique that is being taught and worked on. Include "points of emphasis" and "coaching points" in your Practice plan and with your players in practice.
Be positive when correcting, but demanding when it comes to your players' attention and physical effort. Don't accept anything below that high level that you constantly stress. Praise the team and the strong efforts of individual players.
Teach the rules of the game to your players. You cannot succeed unless you follow the rules and you cannot follow the rules unless you know the rules.
Ultimately, remember that a great coach must be a great teacher. A great teacher must be a great student. He/she must know the material that he/she is teaching. He/she must "stay up with the game". Coaches must stay informed of the changes of styles, techniques, rules in the game. Basketball is not a static game. There are constantly changes that occur in the game. Coaches must have high levels of expectations from the assistant coaches, the players, the managers, and above all, him/herself. Often times, people only reach the levels that are expected of them. Coaches cannot expect anyone in the program to perform at a higher level than he/she performs. Coaches are a model to everyone in the program every minute of every day—be a strong example and model.
About the Author
Coach Kimble was the Head Basketball Coaching position at Deland-Weldon (IL) High School for five years (91-43) that included 2 Regional Championships, 2 Regional Runner-Ups and 1 Sectional Tournament Runner-up. He then moved to Dunlap (IL) High School (90-45) with 2 Regional Runners-up, 1 Regional, 1 Sectional and 1 Super-Sectional Championship and a final 2nd Place Finish in the Illinois Class A State Tournament. He was an Assistant Basketball Coach at Central Florida Community College in Ocala, FL for 1 year before becoming Offensive Coordinator and then Associate Head Coach for 3 additional years He then was the Head Basketball Coach at Crestview (FL) High School for 10 years, averaging over 16 wins per season.
He has had articles published in the following publications such as: The Basketball Bulletin of the National Association of Basketball Coaches, the Scholastic Coach and Athletic Journal, Winning Hoops, Basketball Sense, and American Basketball Quarterly. He has also written and has had five books published along with over 25 different DVDs by Coaches Choice and Fever River Sports Production.
See him on Twitter @CoachJohnKimble and his Web Page "www.CoachJohnKimble.com"