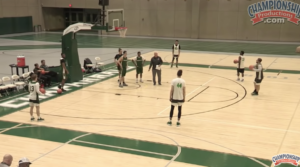 Today's post is a shooting drill from former St. Anthony Coach Bob Hurley.
The video of this shooting drill is hosted on YouTube.
You will need to be on a network that allows you to access that site.
Click the play arrow to view the video.
There is narration with the video, so please make sure that your sound is on.
You can make adjustments to the drill to fit your needs.
For example, you can set a team standard, or a team record, that you are going for in 5 minutes.
You can change the time to 4 minutes and have two teams of 8 competing against each other (one team at each end) if you have 16 (or more) players in your practice.
I think it is good to have another competitive shooting drill to add to your drills list.
I also like that the players have to communicate before they get the basketball to shoot.
You can find out more about the Championship Productions video that this clip is from at this link:
Bob Hurley's Drills for Offensive Mastery