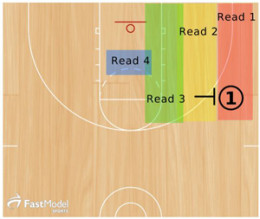 Today's post is an idea for a system that you can adapt to your practices to help your players develop decision making skills when coming off on ball screens.
These ideas were posted by Coach Greg White in the FastModel Sports Basketball Plays and Drills Library
The site has thousands of drills and plays that have been submitted by basketball coaches from around the world.
You can also find out more about FastModel Play Diagramming software by clicking this link: FastDraw
I am not suggesting that this is exactly how you will teach your decision making reads or tree, but I hope it gives you some food for thought to do some sustained thinking and develop your own that fits your offensive philosophy.
That will also help you to improve the drills that you are currently using to teach players to read the play in the manner that you want.
 Wing Ball Screen Reads
This is the tool we use when teaching guards how to use a ball screen on the wing. This chart, accompanied with breakdown drills creates a great understanding of the play.
Read 1
Can I reject AND Get to the block?
What am I hearing? (Trap, Switch, etc)
Read 2
Where is the Screener's defender?
Can I split?
Where are his hands (bounce pass or chest pass)
Where is the help defender?
Read 3
Is the Roll still there?
Preparing for Elbow Jumper
Looking at Opposite Post
Find the Open Shooter. pass
Read 4
Finish
Pass to Corner 3
Slot Ball Screen Reads
Read 1
Do I see the Hedge?
What am I hearing? (Trap, Switch, etc)
Read 2
Did They Switch?
Did the Hedge stay with me?
Can I see the rim?
Who is the help defender?
Read 3
Is the Shooter open?
Read 4
Finish
Pass to Post
Pass to Corner
Small Side Game
Here is a Small Side Game to use to teach the Slot Reads. This focuses on the spacing, reads and actions of the players involved.
You can come up with similar games or drills to teach the reads that you use in your system.
1 comes off the slot screen and reads:
The hedge – did it stay?
The switch – Wait for Dive
The Help – Pitch to 2 for the shot