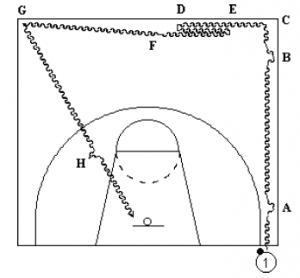 This drill was originally designed by Coach Ed Schilling.
This drill can be used either in season for several players at once or as an out of season skill development drill..
Under Coach Schilling Park Tudor High School (Indianapolis, Indiana) won the 2011 and 2012 Indiana 2A State Championships.
He has been the Head Coach at Division I Wright State, has served as an assistant coach for John Calipari at UMass, with the New Jersey Nets, and at Memphis. Ed serves as a Head Coach for the Adidas Nations Program.
Ed operated Champions Academy in Indianapolis–a skills training academy for players of all ages and skill levels prior to joining the staff at UCLA.
The highest profile players who work out with Coach Schilling are NBA and pre NBA draft prospects. At least one first round draft choice in each of the past 6 NBA drafts has worked out at Champions prior to the draft.
As a player, Ed was a four year starter at Miami (Ohio). He holds the Miami single game, single season, and career assist records. In addition, Ed's 18 assists in one game still stands as the Mid American Conference record.
Points of Emphasis:
1. Keep your head up – see the court.
2. Low dribbling stance.
3. Explosive, quick moves.
4. Do it at game pace.
5. Low dribbles (especially on crossovers).
Players line up at corner of the court and follow the path shown in diagram below.
The following describes the desired path. Dribbler starts at corner with ball in right hand.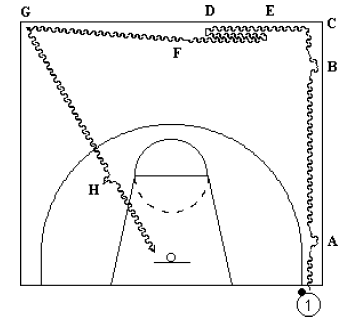 1. At points A and B execute an inside-out move (fake crossover).
2. At point C execute a reverse spin – now dribbling left hand.
3. Dribble to point D, then quickly retreat dribble back to point E.
4. At point E, execute a quick, low crossover dribble and dribble to point F – now dribbling right hand.
5. At point F execute a 180 degree half spin (fake reverse)
6. At point G execute a behind-the-back as you change direction.
7. At point H execute a hesitation, stutter-step dribble and
explode to the basket for a lay-up.
Variations:
Go around the opposite direction (start at bottom left corner).
The other variations you can make to this drill are limited only by your imagination.